This is an archived article and the information in the article may be outdated. Please look at the time stamp on the story to see when it was last updated.
Two dozen students were recently sent home from Huntington Beach High School amid a warning about potential measles exposure that was prompted by a person who went to school with the highly contagious airborne virus earlier this month.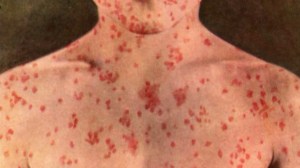 The possible exposure occurred between Jan. 6 and Jan. 8, according to a notification letter from Orange County public health officials that was posted on the high school's website.
It was not immediately clear whether the infected person was a student, teacher or staff member.
Those who were in close contact with the person and may not be immunized against the infection disease were individually contacted by the Orange County Health Care Agency, the Jan. 14 letter stated.
The 24 students who were told to stay home had not been vaccinated, officials said.
Related story: Five Disneyland Employees Diagnosed With Measles
The agency's warning came amid a measles outbreak that was initially linked to visits to Disneyland and Disney California Adventures in mid-December. It has since spread beyond the Anaheim-based theme parks, sickening more than 50 people in the state as of last week.
The disease was rapidly spreading through California, health officials said, noting they expected more cases to be diagnosed.
Measles is spread "very easily by air and direct contact," and can be contracted simply by being in the same room as someone with the virus, according to the letter.
It usually takes about 8 to 12 days to show symptoms of measles, but the incubation period can be as long as 21 days.
Initial symptoms include a mild to moderate fever that is accompanied by a cough, runny nose and red eyes. About two to three days later, a patient's fever will spike up to 105 degrees, while a "red blotchy" rash starts to appear along the face before spreading to the entire body, health officials said.
Those who have received two doses of measles vaccine are at a low risk of contracting the illness.
Parents of children who develop measles symptoms, even if they don't have a rash, were asked to call their health care providers and the Orange County Health Care Agency immediately at 714-834-8180.
Anyone with questions about the virus or vaccine was asked to call the O.C. Health Care Agency's referral line at 800-564-8448.
More video: