This is an archived article and the information in the article may be outdated. Please look at the time stamp on the story to see when it was last updated.
A Huntington Beach man will serve six years in prison after he was found guilty of knocking a police officer to the ground and beating and kicking him alongside his son last year, the Orange County District Attorney's Office said Monday.
The attack happened around 11 p.m. one night in February 2016, when 60-year-old Darryl Keith Headrick and his 25-year-old son teamed up in beating a Huntington Beach police officer, the DA's office said.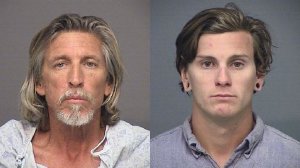 His son, Bryce Headrick, had been pulled over by the officer for a traffic stop while he was riding a bicycle near the area of Beach Boulevard and Clay Avenue, prosecutors said.
Just as the officer was speaking with Bryce, his father "approached the officer from behind and assaulted the officer," the DA's office said in a news release.
The officer tried fighting off the two men with a taser gun but was unsuccessful, officials said at the time.
Both father and son punched the officer, knocking him to the ground, and they continued to punch and kick him in the head and other areas of his body, prosecutors said.
It all happened right in front of the officer's daughter, who had joined him for a ride-along that day and witnessed the brutal attack, prosecutors said.
At the time, officials said a woman got out of the police patrol vehicle and tried yelling for the men to stop. That's when they fled.
They had beaten the officer until he lost consciousness, leaving him with a concussion, prosecutors said. The officer was taken to UC Irvine Medical Center to treat non-life threatening injuries.
Darryl Headrick was found by police near the crime scene while his son was arrested hours later near his home, prosecutors said.
Bryce Headrick was previously sentenced to seven years in prison. Just a month after the incident, in March 2016, he pleaded guilty to a felony count of aggravated assault on a peace officer, one misdemeanor count of resisting and obstructing another officer and was given a sentencing enhancement for inflicting great bodily injury.
Meanwhile, his father pleaded guilty to those same three charges just this month, on Nov. 17, and he was sentenced to six years in prison on Friday.