This is an archived article and the information in the article may be outdated. Please look at the time stamp on the story to see when it was last updated.
Huntington Beach police are asking for the public's help identifying a man who was caught on camera stealing bicycles from a condominium complex parking structure.
The incident occurred between 6 a.m. and 7 a.m. on June 29 when the man entered an underground parking structure of the Pier Colony Condominiums at 200 Pacific Coast Highway, officials said.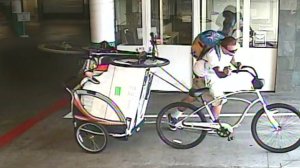 He was able to get through an access gate by reaching through the bars and opening the door from inside. The man was caught on video surveillance walking through the structure and trying to get into various parked vehicles. He was eventually seen pushing a bicycle with a child bike trailer attached and placing an unopened BBQ into the trailer, officials said.
He then took a second bike, placed it on top of the box and walked out through the main vehicle entrance.
He is described as having brown hair, tattoos on his right arm and right calf and a star tattoo on his right elbow, police said.
He was wearing a white T-shirt, khaki knee-length shorts and white sneakers.
Anyone with information about the man can call the Huntington Beach Police information hotline at 714-375-5066.