This is an archived article and the information in the article may be outdated. Please look at the time stamp on the story to see when it was last updated.
HUNTINGTON BEACH, Calif. (KTLA) — A special city council meeting was held in Huntington Beach on Tuesday to address the riots that erupted after the U.S. Open of Surfing.
Hundreds of residents and business owners packed City Hall to voice their concerns about Sunday's violence.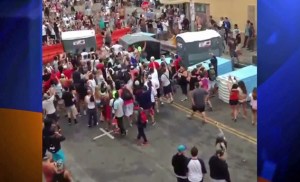 Crowds of people vandalized city property after the close of the annual Vans U.S. Open of Surfing.
They tipped over portable toilets, smashed through a store window with a stop sign and looted, injuring some police officers.
Police had to use tear gas and rubber bullets to control the crowd.
On Tuesday, concerned citizens asked that changes be made to the event, which many said attracts troublemakers.
All but one of the seven people arrested on Sunday were visitors.
Many residents expressed anger at the response time to the incident, saying it took at least 15 minutes for police to arrive on scene.
"I want the city to start responding to the needs of the people that live in downtown, not just the vendors, bars and restaurants that seem to have so much influence," one resident said.
"That means more resources, more planning and more common sense when it comes to events like the U.S. Open," he said.
One of those arrested during the disturbance was 30-year-old Fullerton firefighter Michael John Lytle, Huntington Beach police said.
The Anaheim resident, who joined the Fullerton Fire Department in 2008, was facing charges of disorderly conduct and resisting arrest.
"This is not something that I would have expected from this individual or any firefighter for that matter," Fullerton Fire Chief Wolfgang Knabe said.
"Traditionally, we're held in pretty high esteem in the community. For any organization when something like this happens, it's not a good thing."
Lytle was placed on administrative leave as the department and police conducted separate investigations, Knabe said.
Another alleged rioter in hot water was 19-year-old Chase Scott Chrisman, of Simi Valley. He was charged on Tuesday with vandalism, inciting a riot and refusal to disperse.