This is an archived article and the information in the article may be outdated. Please look at the time stamp on the story to see when it was last updated.
An Orange County superior court judge ruled Wednesday that an electronic dance party will go on as scheduled in Huntington Beach.
City leaders had filed a restraining order against Wet Electric, an all-day rave party expected to draw some 10,000 people to Huntington State Beach.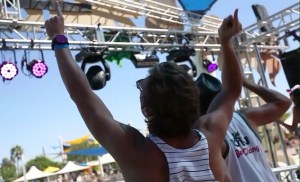 Attorneys for the city of Huntington Beach argued that the party violated zoning ordinances, according to court documents.
Judge Jamoa A. Moberly ruled in favor of the festival organizers.
For $100 per ticket, concertgoers can enjoy performances by 12 DJs, water slides, zip lines – and alcohol, according to wet-electric.com.
Concert promoters reportedly applied for and received the required permits for the event, whose location is regulated by the California Department of Parks and Recreation.
But city officials were loath to see a possible repeat of July 28, when rioting broke out in Huntington Beach following the U.S. Open of Surfing. Two hundred and fifty police officers were summoned to quell the melee, which resulted in the arrest of seven people.
"We first found out about this event in August when a resident called us," Huntington Beach Mayor Connie Boardman said of Wet Electric. "The state hadn't told us they were planning this very large music dance party.
"The council would be opposed to this regardless," she said. "What city council would want 10,000 people drinking all day on public land?"