This is an archived article and the information in the article may be outdated. Please look at the time stamp on the story to see when it was last updated.
The alleged kidnapping for ransom of a Huntington Beach woman in the Bay Area earlier this week was an "orchestrated" event, police in Vallejo announced Wednesday just hours after the 30-year-old was found safe in Southern California.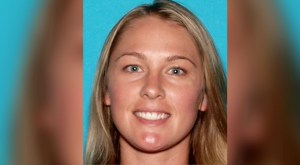 Police were investigating the apparent abduction of Denise Louise Huskins from a home in Vallejo, where she had lived for the past year, CNN reported Tuesday.
A male acquaintance of the 30-year-old, whom her cousin described as her boyfriend Aaron Quinn, reported Tuesday that he witnessed Huskins' kidnapping at his home the previous day.
He waited some 12 hours to report the crime, CNN reported.
"The statement that Mr. Quinn provided was such an incredible story, we initially had a hard time believing it," Lt. Kenny Park of the Vallejo Police Department said at a news conference Wednesday night. "And, upon further investigation, we were not able to substantiate any of the things he was saying."
The initial ransom demand was for $8,500, Park said.
Earlier in the day, Huskins was found safe in Huntington Beach where her family lived.
"Denise Huskins was found safe at a relative's house in Huntington Beach this morning after contacting her father and telling him she was here," the Huntington Beach Police Department stated on Facebook.
A relative told the L.A. Times that Huskins had left a voicemail that said: "Daddy, I'm OK. They dropped me off at mom's house, but she's not there so I'm walking to your house."
After Huskins spoke with detectives in the building where her father lives, news video showed her being escorted into a police vehicle and driven away.
She was expected to be transported by family members to Vallejo and interviewed by police investigators there.
Local detectives and the FBI arranged for a jet to fly Huskins back to Northern California for an interview, according to a news release from the Vallejo Police department.
But as of 9 p.m., police had been unable to contact Huskins or members of her family.
She had retained an attorney, the release stated, and detectives were unaware of her location.
Police said at this point there was no evidence to support the claims that this was an abduction. Given the facts, police said the incident appears to be an orchestrated event.
"If evidence indicates that either Ms. Huskins or Mr. Quinn have committed a criminal act, the Vallejo Police Department will request either state or federal charges," the release stated.
In a bizarre twist, the San Francisco Chronicle reported Wednesday that people who identified themselves as the kidnappers had contacted them.
In an email to the newspaper on Tuesday, they wrote that Huskins "will be returned safely (Wednesday). We will send a link to her location after she has been dropped off. She will be in good health and safe while she waits. Any advance on us or our associates will create a dangerous situation for Denise. Wait until she is recovered and then proceed how you will. We will be ready."
The email included an audio recording of Huskins, who mentioned Tuesday's deadly plane crash in France to demonstrate she was alive that day, as well as personal information to prove she was, in fact, the person speaking, the Chronicle reported.
Her father, Mike Huskins, confirmed to the Chronicle that it was his daughter.
"That was her. The tape recording was her. That I know. They said they were going to drop her off and they did," Mike Huskins said, according to the Chronicle.  "I'm relieved. You have to expect the worst — but in my heart, I knew she was still alive."
Huntington Beach police were investigating the situation Wednesday, and Huskins' uncle Jeff Kane asked that officials remain at the scene until they better understood what had happened.
Huskins and her boyfriend had been dating for 7 months, and they both worked as physical therapists at Kaiser Vallejo, CNN reported. Police said Tuesday Roger was not considered a suspect.
Prior to Huskins' safe return, her father asked the alleged kidnappers not to harm her.
"Don't hurt her, please don't hurt her," Mike Huskins said. "The biggest fear is the horror she might be going through. That's my biggest fear. She doesn't deserve that, not from anybody.
Officials said Tuesday the alleged kidnappers demanded a ransom but did not provide details.
The ransom did not make sense to Kane, who described the family as middle-class.
About 75 people from the Solano County Search and Rescue Team looked for Huskins on Tuesday, and her 2000 White Toyota Camry was found in Vallejo, CNN reported.
The car was moved from the residence at an unknown time, police said.
"Nothing like this has ever happened before," Huskins' cousin, Natalia Kane, told KTLA after her relative was found. "It's weird because it's ransom, so it's not just a random kidnapping. There must be a reason for why they're doing that."
 KTLA's John A. Moreno contributed to this report.