This is an archived article and the information in the article may be outdated. Please look at the time stamp on the story to see when it was last updated.
Huntington Park police were in pursuit of an allegedly stolen vehicle Tuesday night in a chase that saw the driver traveling onto train tracks and into a Los Angeles Metroline tunnel just minutes after slamming into a yellow cab, as seen in Sky5 footage.
The vehicle being pursued appeared to be a pick-up truck as it reached the Montebello area by about 10 p.m., as seen in aerial footage from Sky5. At about 11:03 p.m., a man could be seen being escorted by officers out of a train tunnel near where the driver had entered.
An hour earlier when the truck was still being pursued, at about 10:18 p.m., it could be seen slamming into what appeared to be a yellow cab in the Boyle Heights area.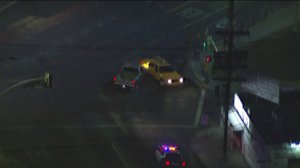 Just after that collision, a patrol vehicle could be seen following close behind. Minutes later, at about 10:23 p.m., the truck could be seen driving onto train tracks, as seen in Sky5 footage, and then straight into a tunnel for an L.A. Metro train.
That tunnel entrance was located at East 1st Street and North Lorena Street near the Soto Street and Indiana Metro stations. After he drove in, a train in another area of the tracks could be seen traveling in a direction going towards where the driver was seen entering, as seen in Sky5 footage.
For that entire stretch of East 1st Street — including an area west and east of where the driver was seen entering a tunnel — Metroline trains were no longer running and buses would replace them along that route, which is the Gold line, L.A. Metro officials tweeted at 10:36 p.m.
GOLD LINE: buses replace trains between Pico/Aliso and Maravilla due to police activity. Line 30 may also serve as alt option. pic.twitter.com/k6CisiP1Lx

— LA Metro (@metrolosangeles) February 21, 2018
Earlier, when the truck drove through an area of Monterey Park just a few minutes past 10 p.m., it could be seen swerving in and out of lanes.
Moments after that, the truck could be seen driving along a double yellow line, just grazing past vehicles traveling in the opposite direction, as seen in footage from Sky5. As it reached the area of East Los Angeles, the truck could seen driving in a lane going in the opposite direction as the streets in that area appeared mostly empty.
In that part of L.A., the truck began driving through what appeared to be a residential area before continuing onto Boyle Heights.