This is an archived article and the information in the article may be outdated. Please look at the time stamp on the story to see when it was last updated.
Authorities have arrested the 32-year-old husband of a woman who was stabbed to death in Valinda, the Los Angeles County Sheriff's Department said Tuesday.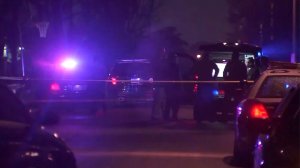 Ricky Ramos was initially detained in the 15500 block Amar Road in Valinda after his wife was found stabbed in their residence, according to a sheriff's news release.
A neighbor initially called 911 to report an unresponsive woman in a home in the 16300 block of Doublegrove Street shortly after 8:30 p.m. Monday, the Sheriff's Department said in an earlier news release.
Industry Sheriff's Station deputies responded to the residence and found an unidentified female victim had been stabbed multiple times, according to sheriff's officials.
They performed life-saving measures on the victim, but she died at the scene, the release stated.
She has been identified as 28-year-old Socorro Ramos.
The couple has a child who was not inside the home at the time of the incident, the department said.
Ramos was detained about two miles away from the home and taken to the Sheriff's Station "pending further investigation," according to the release.
He was later arrested on suspicion of murder, authorities said. Ramos has been booked into jail and is being held on $2 million bail.
The weapon has been recovered, according to investigators.
Anyone with information about the fatal stabbing is urged to call the Sheriff's Department's Homicide Bureau at 323-890-5500.
Those who prefer to leave info anonymously can call Crime Stoppers by dialing 800-222-8477, or by going to the website http://lacrimestoppers.org.