This is an archived article and the information in the article may be outdated. Please look at the time stamp on the story to see when it was last updated.
A man was shot and killed after he opened fire on police officers who were responding to a domestic violence call in the Vermont Knolls area of South Los Angeles on Monday, authorities said.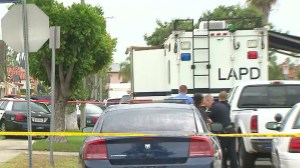 Officers initially responded to the 8100 block of South Budlong Avenue (map) around 2 a.m. after a woman said she was shot while talking with a 911 dispatcher, according to Deputy Chief Bob Green with the Los Angeles Police Department.
The dispatcher heard the sound of a gunshot in the background, Green said.
When officers arrived, a man identified as the victim's husband was outside the residence and immediately shot at them, Green said.
The officers returned fire and, at some point, the man was struck, according to Green.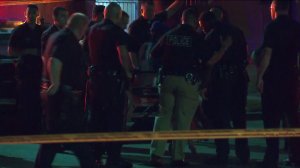 "We don't know if he was struck by our gunfire," he added.
Neighbors reported hearing about a dozen gunshots in the area.
The man was pronounced dead at the scene by firefighters.
Authorities have not yet released his identity, but in a news release sent out Monday afternoon, LAPD described him as a 50-year-old black man. The release stated that police were called to a home in the 1100 block of West 81st Place, around the corner from the address initially given by Green.
No officers were injured in the incident, which was under investigation. A handgun was recovered at the scene, according to LAPD.
The victim, who sustained a gunshot wound to her right shoulder, was taken to a local hospital for treatment. She was last reported to be in stable condition.
A son was also at the residence and was taken to a police station, Green said. It was not immediately clear how old he was.
More Video: