This is an archived article and the information in the article may be outdated. Please look at the time stamp on the story to see when it was last updated.
Two homes were raided in Montebello early Thursday, including one where the city's mayor reportedly lives, and her husband was taken into custody on suspicion of methamphetamine sales.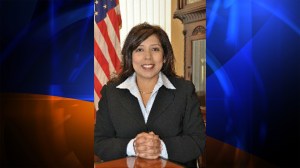 Ruben Guerrero, 44, was arrested as he left his home in the 1500 block of Los Angeles Avenue, which he owns with Montebello Mayor Christina Cortez, according to the Los Angeles Times.
Guerrero is Cortez's husband and has been involved in alleged threats against a city councilman, the newspaper reported.
Los Angeles County Sheriff's Department detectives searched two homes in the San Gabriel Valley city, one in the 1500 block and another in the 1600 block of Los Angeles Avenue.
Other than Guerrero, no one else at the homes was "implicated in the sale of narcotics," the sheriff's department stated in a news release.
Guerrero was booked at the East Los Angeles sheriff's station for sales of methamphetamine and sales of a narcotics near a school. He was later released on $60,000 bail.