This is an archived article and the information in the article may be outdated. Please look at the time stamp on the story to see when it was last updated.
Four LAPD officers saved the life of an 80s rapper after he collapsed at a bus stop in Canoga Park, police said Friday.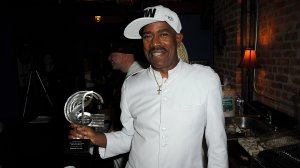 "I died and those officers saved my life," said Kurtis Walker, aka Kurtis Blow, of the officers who gave him CPR.  "The police saved my life, a Black man.  In this day and age, people need to hear that."
Officers Peter Parra and Felix Rodriguez arrived at the scene near the Topanga Mall on Oct. 29 and discovered that a 57-year-old man was having an argument with his 20-something son. The original call was reported as a robbery.
When additional officers Chris Vege and his partner Calvin Hill Jr. responded, Walker collapsed.
"We didn't think about it; we just acted. I swept his airway for obstructions, and Officer Hill started chest compressions," Vege said.
Parra told KTLA it appeared Walker was going into cardiac arrest or was having "some sort of heart episode."
Walker gasped for air after several minutes and the officers rolled him on his side. He then stopped breathing again and Hill continued doing chest compressions.
"It seemed like a really long time when you're pressing on a man's chest, hoping he won't die," Hill said.
Witnesses said Hill continued the compressions for more than five minutes.
Paramedics eventually arrived and Walker was taken to West Hills Hospital where he remained Friday.
He told authorities that he wants to meet the officers.
"They got there so fast.  If they got there any later, I would have died," he said.
Vega said the officers are happy that Walker pulled through.
"We didn't think too much about what we had done, but we were curious to see how the man was doing," he said.
"So we drove to the hospital later that night, and several people made a big deal about us saving the man's life."
The officers will be receiving a life-saving award for their efforts, police said.