This is an archived article and the information in the article may be outdated. Please look at the time stamp on the story to see when it was last updated.
Federal immigration officers arrested nearly 200 people in Southern California during an operation that targeted criminals and lasted five days, authorities announced Thursday.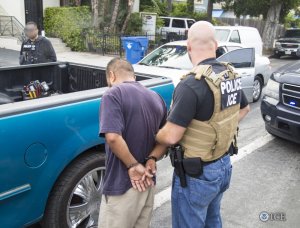 The effort focused on "at-large criminal aliens, illegal re-entrants, and immigration fugitives" who were considered threats to public safety, U.S. Immigration and Customs Enforcement said in a news release.
The arrests took place from Saturday, May 20, through Wednesday in L.A., Orange, Riverside, San Bernardino, Ventura and Santa Barbara counties.
Nearly 90 percent of the 188 arrested had prior criminal convictions, with the largest portion having drug offenses, according to ICE.
Those arrested include a 29-year-old Salvadoran man who had been deported after serving a nine-year prison term for rape, and a 51-year-old Mexican man who served three years in state prison for cocaine trafficking. The first man was arrested in L.A., the second in La Puente.
The arrests follow Trump administration vows to pump up immigration enforcement. The administration said in March ICE would continue making arrests at California courthouses over the objections of the state's chief justice.
Since President Trump signed an executive order on immigration shortly after taking office, more than 41,000 people have been arrested nationwide, an increase of nearly 40 percent over the same period last year, ICE stated. Trump had promised to triple the number of ICE deportation officers.
In Southern California, however, arrests have remained relative flat, according to the Los Angeles Times. ICE officers locally have made 2,273 arrests since the executive order.
The percentage of those arrested in Southern California with criminal records is much higher than in other large cities, where the number of immigrants arrested with no criminal background has increased dramatically, the Times reported.
Under President Obama, immigration arrests were at one point much higher – with 351,029 arrested in 2011, according to the New York Times – but the figures dropped when the administration's policy changed to focus only on those who had committed serious crimes.
At the current rate, arrests under Trump are set to outpace the peak number made under Obama, according to the New York Times' analysis published last week.
The director of Enforcement and Removal Operations for the ICE Los Angeles field office, David Marin, said things have changed for agents since Trump came into office.
"In the previous administration, there were groups of individuals – categories of people, so to speak – that we weren't allowed to target and we weren't allowed to apprehend," Marin said. "With the new administration, anybody that's in violation of the immigrations laws … are subject to arrest."
Of the recent Southern California arrests, eight people face federal prosecution for returning to the U.S. illegally after being deported.
Eleven women were among the 188 arrested. More than three-quarters of those arrested are from Mexico.