This is an archived article and the information in the article may be outdated. Please look at the time stamp on the story to see when it was last updated.
Protesters gathered in downtown Los Angeles Monday to call for the release of a father of four who was arrested by federal immigration agents last week after dropping his 12-year-old daughter off at her Highland Park school.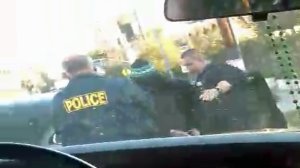 Romulo Avelica-Gonzalez, 48, was taken into custody Feb. 28 in Lincoln Heights after driving away from Academia Avance, a charter school. He has lived in the U.S. for more than 25 years, his family's attorney said.
His daughter Fatima Avelica, 13, recorded video of the arrest by men in dark uniforms with "police" in yellow letters on the back. Sitting behind her mother, Fatima sobbed from the back seat of a vehicle as her father was driven away in an unmarked car.
Romulo Avelica-Gonzalez was targeted by U.S. Immigration and Customs Enforcement agents "because relevant databases indicate he has multiple prior criminal convictions," a spokeswoman for the federal agency said.
Avelica had a 2009 conviction for driving under the influence and was the subject of a 2014 court order for removal from the U.S., ICE spokeswoman Virginia Kice said in a statement.
"After conducting surveillance to confirm his identity, the officers arrested Mr. Avelica during a vehicle stop in the 3200 block of Pasadena Avenue," Kice said.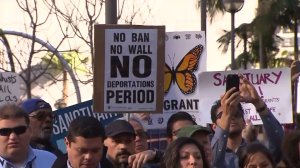 Avelica remains in ICE custody. He is a citizen of Mexico whose four daughters between age 24 and 12 were born in the U.S., the Los Angeles Times reported.
The family has obtained a stay on his deportation from the 9th U.S. Circuit Court of Appeals, where the case remains, according to the Avelicas' attorney, Peter Greyshock. The government has attempted to get the stay dismissed; no hearings are scheduled, he said.
"Romulo is … a man who's lived in the United States since I was personally in grade school and he paid his taxes and raised four beautiful U.S. citizen daughters," Greyshock said. "He's been here since the early 1990s."
Avelica's case, which has drawn nationwide attention, comes as undocumented immigrants face heightened fears of deportation under the presidency of Donald Trump, who has vowed to remove "bad ones" from the country.
"Just several days before Mr. Avelica was detained, President Trump called his mass deportation program a military operation," Greyshock said. "My question is why the president is declaring war on American families."
The 3 p.m. rally at Pershing Square Monday was held to call on ICE to grant Avelica bail so he can be with his family or, preferably to supporters, to end efforts to deport him, according to a Facebook event post. About 100 people were at the protest, including family members.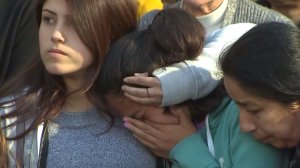 "My dad is very strong and that's why we are here: to be strong for him. … We're not leaving," daughter Joselina Avelica said at the protest.
Academia Avance organized the event in conjunction with National Day Laborer Organizing Network. The school last week held an assembly to address concerns over the arrest, according to the Times.
Meanwhile, the union that represents teachers in the Los Angeles Unified School District condemned the arrests of Avelica and another father taken into custody as he prepared to take his children to school.
"Seizing parents on their way to or from dropping off their children at school will lead to students staying home, disrupting their education and negatively impacting our learning communities. Documented or not, all children have the right to a public education free from fear and intimidation," United Teachers Los Angeles said in a statement issued March 3. "It's wrong to target a student's family, whether in school, on their way to school, or coming home from school."
Under ICE policy, "enforcement actions at sensitive locations," including schools, "should generally be avoided," according to the agency's website. Agents who violate the guidance must have approval from a supervisor or must face "exigent circumstances necessitating immediate action," the website states.
It's not immediately clear what about Avelica's case led to his arrest close to a school.
Avelica is was the sole provider for his family, according to his supporters. A crowdfunding page has been set up to benefit the family.
Correction: An earlier version of this article included a sentence that misstated the age range of Avelica's four daughters. The story has been updated.