This is an archived article and the information in the article may be outdated. Please look at the time stamp on the story to see when it was last updated.
After two hikers died and more than a dozen were rescued by helicopter in the Mount Baldy area within a week, popular but sometimes treacherous-in-winter trails have been closed, the Angeles National Forest announced Monday.
The trails were closed until further notice due "severe risk of injury," the Forest Service said in a tweet.
Baldy Bowl, Bear Flats, Icehouse Canyon, the Three Ts, Chapman and Devil's Backbone trails are closed, a Forest Service spokeswoman told the Los Angeles Times.
On Tuesday, Feb. 2, 23-year-old Daniel Nguyen of Garden Grove fell to his death while trying to help a fellow hiker on a section of the mountain called "Devil's Backbone," which has notoriously steep drop-offs on either side of the trail. Nguyen fell some 1,500 feet down the side of the mountain after losing his footing while trying to pull a friend to safety.
The following day, a hiker was airlifted from Icehouse Saddle, a wooded area where multiple trails converge, including one that leads toward Mount Baldy's 10,064-foot summit, according to the San Bernardino County Fire Department.
On Thursday, Feb. 4, three hikers who fell were hoisted to safety in darkness by a San Bernardino County Sheriff's Department helicopter.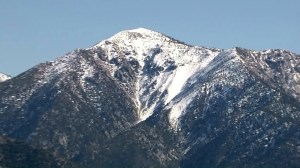 Then, on Saturday, 47-year-old Dong Xing "Tony" Liu of Temple City slipped down the mountainside, along with his wife, according to the county coroner's office.
When they fell, Liu and his wife 44-year-old Linda Duan were hiking in the Icehouse Saddle area, where they lost their footing on ice, the Sheriff's Department said in a news release Monday.
Two fellow hikers made their way down to the couple, contacting Liu's and Duan's daughter, who called 911 about 5:10 p.m. The good Samaritans kept Duan warm while waiting for help, the Sheriff's Department said.
A sheriff's helicopter was already responding to five other hikers stranded in the same area when the call came in.
The couple were stranded at 7,000 feet, stuck under a fallen tree on an icy slope.
The helicopter crew located Liu and Duan from the air, but the aircraft needed to refuel and prepare for a "night vision goggle hoist," the Sheriff's Department said.
Air medics were eventually lowered toward the victims, set up a snow anchor, and had Duan hoisted to the helicopter in a Stokes litter. Liu had fatal injuries and was pronounced dead at 8:12 p.m.
Duan was hospitalized. She had "major lower-body injuries," sheriff's Cpl. Mike Ells told the Los Angeles Times.
The two good Samaritans were also air-lifted.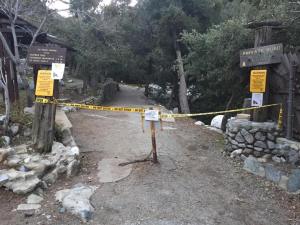 That evening, the Mount Baldy Fire Department said on Facebook that at least 12 hikers and two dogs were hoisted out by helicopter that day.
Hiking conditions were very icy and dangerous, the Fire Department said.
"Please use extreme caution if planning to hike in the area," the department stated in a Facebook post. "Crampons and ice axe are a necessity if you plan to go into the snow."
On Sunday morning, the Fire Department announced that many trails were closed to the "treacherous"conditions.
Ells told the Times that five rescues were performed Saturday, saying that some hikers may not be aware of conditions in the mountains.
"We haven't had snow like this for years," Ells told the Times. "You don't realize how treacherous it is until you get up there."
It was not clear if any of the rescued hikers were using appropriate snow and ice travel equipment, or if they were trained to travel in such conditions.
One commenter on the Fire Department's Facebook page said she saw some young people going up the Chapman Trail — a route that leads up to Icehouse Saddle.
They were wearing shorts and sneakers on Saturday, when it was unseasonably warm, the commenter wrote.
"Some of them weren't even carrying backpacks. It was unbelievable. Then I heard all the helicopter activity later in the morning and afternoon and hikers coming down from the saddle reported that people had fallen and gotten injured," she wrote.
Trails have become particularly icy because snow melts during the day and then re-freezes at night.
Even crampons would not have helped, Mt. Baldy Fire Department Capt. Gordon Greene told the Times.
"As far as I know, there wasn't any equipment that was adequate," Greene said. "Crampons wouldn't have helped. The ice was so smooth it was almost like a mirror, and so hard nothing was going to penetrate it enough to make it safe."
The Forest Service planned to reevaluate the trail closure on Tuesday, according to the Fire Department.
Those who are caught on the closed trails will be cited and could face up the six months in jail and/or up to $5,000 in fines, the Forest Service said on Twitter on Monday evening.
Mount Baldy, the common name for Mount San Antonio, is the highest peak in the San Gabriel Mountains, and is on the border of Los Angeles and San Bernardino counties.
Photo: From today's multi-patient snow/ice hoist rescue w/ @MtBaldyFire @SBCOUNTYFIRE @sbcountysheriff near Mt.Baldy pic.twitter.com/fQ7FU4T8E4

— LACoFireAirOps (@LACoFireAirOps) February 6, 2016