This is an archived article and the information in the article may be outdated. Please look at the time stamp on the story to see when it was last updated.
The identity of a woman whose body was found alongside a remote road in northwestern Los Angeles County remains a mystery, and authorities on Thursday asked for help finding out who she is.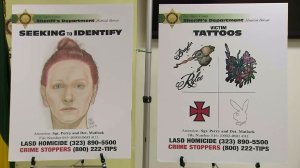 The woman's body was found along Gorman Post Road just north of state Route 138 by someone who stopped while driving by about 5 p.m. Sunday.
The motorist pulled over for a rest stop and spotted the remains in the brush alongside the "desolate" road, Los Angeles County Sheriff's Department Lt. Joe Mendoza said.
Deputies and the county Fire Department responded, and the woman was pronounced dead at the scene. She had suffered trauma to her head, Mendoza said.
"We know she was the victim of a murder, based on the head trauma," the lieutenant said.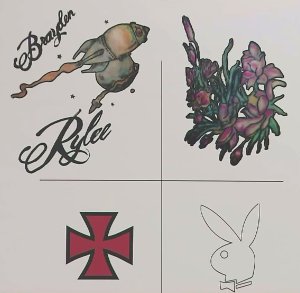 Other details of what happened to her are not known, he said. Investigators believe the body was only at the location where it was found no more than "24 hours or so," he said.
She is Caucasian or Hispanic, 25 to 35 years old, with blue eyes, and 5 feet 1 inches tall and 96 pounds. Her hair was dyed a dark burgundy.
She had several tattoos, including ones that had the names Brayden and Rylee. Mendoza said investigators are hopeful the names on the tattoos will help.
The other tattoos appear to be a Playboy bunny, a red Iron Cross, and some type of pink flower.
Homicide detectives' efforts to determine her identity — including searches of L.A. County and federal databases — have failed, Mendoza said.
The Sheriff's Department on Thursday released a post-mortem drawing of the woman, including her tattoos.
The coroner's office is performing a toxicology test on the woman, but the results are not yet available.
The Sheriff's Department initially described the area where the body was found as "unincorporated Lebec," but the area is actually on the east side of the 5 Freeway between Gorman and Pyramid Lake. Mendoza said Thursday it's generally referred to as Gorman.
Anyone with information is asked to call sheriff's Homicide Bureau at 323-890-5500.