This is an archived article and the information in the article may be outdated. Please look at the time stamp on the story to see when it was last updated.
Gov. Jerry Brown declared a state of emergency in Riverside County as the destructive Cranston Fire continued to spread and prompt new evacuations Thursday, one day after it was allegedly sparked by an arsonist in the Idyllwild area.
The blaze grew by roughly 4 square miles as it burned through rough terrain and dry brush, but U.S. Forest Service spokesman Lee Beyer said it appeared to be moving into less populated areas in its second day. The previous day, at least five residences were destroyed, and roughly 5,000 structures remained threatened Thursday.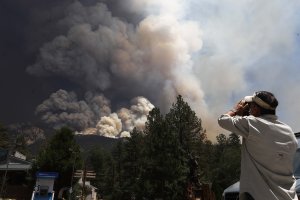 By late afternoon, it covered 7,500 acres — or just over 11 square miles — and was 5 percent contained, according to the San Bernardino National Forest.
The blaze ignited off Highway 74 in the San Jacinto Mountains around noon Wednesday, and investigators believe it was intentionally set. A suspect has been arrested.
Officials were hoping to stem its progress Thursday by putting as many air tankers and helicopters in the air to attack the blaze as possible, especially as it was heading into steeper terrain, Beyer said.
The Cranston Fire was one of three major infernos in California that prompted an emergency proclamation Thursday. States of emergency were also declared surrounding the Carr Fire, which killed a bulldozer operator as it exploded in Shasta County late Thursday night, and the deadly Ferguson Fire threatening Yosemite National Park in Mariposa County.
It was also one of two large fires in Riverside County after another blaze, dubbed the Ribbon Fire, broke out Thursday. That fire spread to 200 acres, and multiple areas were placed under evacuation warnings.
Thousands evacuated, roads and wilderness areas closed
The Cranston Fire forced the evacuation of around 6,000 people in the communities of Mountain Center, Idyllwild, Hurkey Creek, Fern Valley, Pine Cove and Cedar Glen, as well as Mount San Jacinto State Park.
Around 5:45 p.m. Thursday, new mandatory evacuations were ordered on the north side of Garner Valley and in the area of Hialeah Way. All homes accessed from roads north of Hialeah were under mandatory evacuation, while an evacuation warning was issued for homes south of Hialeah through just south of Highway 371, including those accessed from Hialeah, officials said.
The areas of Apple Canyon, Lake Hemet and Camp Scherman Girl Scout Camp had been on earlier evacuation lists, but were not included in the Forest Service's Thursday evening update.
An evacuation center was set up at Banning High School located at 100 W. Westward Ave.
The high school was also accepting small pets, but animals both small and large could be taken to Dysart Equestrian Park in Banning or the San Jacinto Valley Animal Campus in San Jacinto.
Those affected can call 909-383-5501 for general fire and evacuation information, and those who need help evacuating animals can contact the Riverside County Department of Animal Services at 951-358-7387.
Road closures were in place for Highway 74 from the city of Hemet to Lake Hemet, and along Highway 243 from Banning to the intersection of the 243 and 74.
KTLA found multiple homes severely burned on Deer Foot Lane in Idyllwild on Thursday.
Idyllwild resident John Milne said his family was able to make it out of the neighborhood with only seconds to spare.
"It came right at us. And thank God for the airplanes, because if they hadn't been here, we would have been gone."
Another resident named Steve told KTLA that he returned to his home after evacuating on Wednesday.
"Forty years up here, I won't leave until flames endanger me," he said. "Yesterday, they endangered me here, I went to town and I came back here."
Some recreation areas in the National Forest had also been shuttered. These included the Dark Canyon, Black Mountain, Marion Mountain, Boulder Basin and Fern Basin campgrounds; Humber Park; Lake Hemet Picnic Area; Tahquitz Peak Fire Lookout; and Devil's Slide Trail and the Pacific Crest Trail north of Highway 74.
And in Mount San Jacinto State Park, all hiking trails and campgrounds, including Idyllwild and Stone Creek, were closed until further notice.
Others in the region would be affected by poor air quality from the large amount of smoke and ash spewing into the air, officials warned.
Smoke from the fire had been spreading north, but it would turn toward the southeast overnight on Thursday before heading back north and northeast on Friday, according to the National Weather Service's San Diego office.
Residents of the San Jacinto Valley and communities in the surrounding mountains were urged to take precautions. Air quality was declared unhealthy in the San Jacinto Valley, Perris Valley, Anza, Hemet, Banning Pass and Coachella Valley, the South Coast Air Quality Management District said.
About 1,000 fire personnel were battling the blaze. Two of the firefighters were hurt, but officials did not release details on the extent of their injuries or conditions.
Suspect arrested on suspicion of arson
Temecula resident Brandon McGlover, 32, was arrested on suspicion of setting at least five fires in the southwest Riverside County on Wednesday, including the Cranston Fire.
McGlover was located after Cal Fire told law enforcement to be on the lookout for the driver of a white Honda sedan.
The car was spotted about near the corner of Newport Road and Garnet Lane about 15 minutes after the fire was reported.
"When we come here and see this type of destruction, you can't help to think about the heart, the pain and the grief—then the anger that these residents are going through because they've lost everything," Cal Fire Capt. Scott Visyak said.
The captain said the amount of smoke made the situation difficult for firefighters.
"The fire is making its own weather right now," Visyak told KTLA.
The blaze broke amid the third day of a heat wave that had prompted an excessive heat warning for the Idyllwild area through 9 p.m. Friday.
Idyllwild is roughly 90 miles east of Los Angeles.
A reminder for displaced #CranstonFire evacuees: Riverside County Animal Services' shelter in San Jacinto is still open to assist families. Fees are waived for evacuees. The department's number is 951-358-7387.

— RivCoReady (@RivCoReady) July 26, 2018
#CranstonFire AM Operational Briefing by CIIMT1 Operations Section Chief Chad Cook pic.twitter.com/nxYSDnfYl0

— San Bernardino National Forest (@SanBernardinoNF) July 27, 2018
View of #CranstonFire today from 8000 feet while passing over Lake Perris and Diamond Valley Reservoir. Unfortunately, @SanBernardinoNF and @CALFIRERRU have their work cut out for them. pic.twitter.com/LYWW4fIZK5

— Sheriff's Aviation (@SBCSDAviation) July 27, 2018
RSO deputies assisting fire personnel during #CranstonFire pic.twitter.com/NDvA8Js6w5

— Riverside County Sheriff's Dept (@RSO) July 26, 2018