This is an archived article and the information in the article may be outdated. Please look at the time stamp on the story to see when it was last updated.
A bill requiring most convicted drunken drivers to install "ignition interlock" devices that would prevent them from driving while intoxicated was signed into state law Wednesday.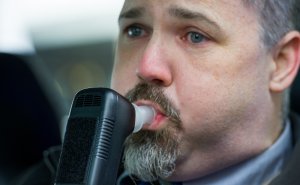 California Gov. Jerry Brown signed Senate Bill 1046, the advocacy group Mothers Against Drunk Driving announced.
The bill will expand an existing four-county pilot program that requires the devices, which are essentially in-vehicle Breathalyzers. The statewide program will go into effect Jan. 1, 2019.
Authored by state Sen. Jerry Hill of San Mateo, the bill will require or allow use of ignition interlock devices — aka an IIDs — in several circumstances:
for a first DUI offense involving an injury, an IID would be required for six months;
for first non-injury DUI offense, an offender may choose to have an IID for six months with full driving privileges, or a one-year restricted license that only allows driving to work, alongside a treatment program;
for a second DUI offense, an IID would be required for a year;
for a third DUI, an IID would be required for two years; and
for fourth and subsequent DUIs, IIDs would be required for three years.
The devices cost about $60 to $80 per month, with an installation fee of $70 to $150, according to Hill. The bill includes a program to help low-income offenders.
In a news release, Hill cited figures that state about 1,000 people die in California each year due to drunken drivers, and more than 20,000 are injured.
MADD was a major backer of the bill.
"No parent should have to lose their child to the criminal negligence of a drunk driver — especially when technology exists to prevent such a tragedy," said MADD board member Mary Klotzbach, whose son Matt was killed by a drunken driver in 2001, in a statement.
The pilot program covered Los Angeles, Alameda, Sacramento and Tulare counties.
Since the pilot program began in 2010 through late last year, the devices have stopped about 125,000 attempts to drive by offenders with a blood-alcohol content of .08 percent or higher, according to MADD data.
And a DMV report last year found that IIDs are 74 percent more effective than licenses suspensions in preventing repeat DUIs for first-time offenders.
Twenty-eight states require the devices for all drunken driving offenders, according to Hill.
#California Thank you @JerryBrownGov for signing #SB1046 into law today! Lives will be saved from the 100% preventable crime drunk driving!

— MADD (@MADDOnline) September 28, 2016