This is an archived article and the information in the article may be outdated. Please look at the time stamp on the story to see when it was last updated.
Who knew that at the same place where you can pick up a build-it-yourself futon or Lack floating shelf, you could also pick up a free plate of potatoes, sausage and eggs? Beginning in September 2014, all Ikeas across the U.S. started offering free breakfast on Mondays, as part of the company's national plan to generate awareness for the restaurant and boost business.
At the Ikea in Burbank, dozens of people line up inside the restaurant to get some free early sustenance, which is served from 9:30 to 11 a.m. It's an eclectic, multiethnic demographic of diners, including many senior citizens on fixed incomes, a handful of the mentally and physically challenged, some homeless people carrying plastic grocery bags filled with their belongings, young mothers pushing two or more strollers, and, yes, a few hipster urbanites.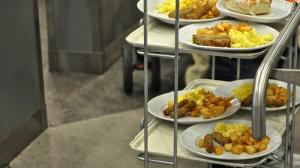 Many of these folks have no intention of wandering through the Ikea marketplace to buy Malm dressers or Alang table lamps. They head over to the store at 9:30 a.m., often lining up at the doors before they open — the Ikea retail store doesn't open until 10 — because this is the cheapest eggs and sausage meal in town outside of the Union Rescue Mission.
And you can go back for seconds, and thirds, and fourths, and even fifths. You can even load up on breakfast to-go in recyclable containers. No limits on those either. Coffee will cost you an additional 75 cents, but with free refills. If you want the Swedish pancake breakfast, you need to cough up an extra $2.99, with an additional 99 cents for the cinnamon roll.
Click here to read the full story on LATimes.com.