This is an archived article and the information in the article may be outdated. Please look at the time stamp on the story to see when it was last updated.
"Illegal drug activity" caused an explosion that leveled a home in southwest San Bernardino County, killing one person and injuring two others, authorities announced Thursday.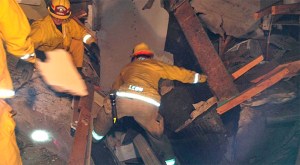 The massive blast ripped through the basement of a house in the 330 block of Gray Street in Muscoy about 6 p.m. Wednesday, causing the road in front of surrounding homes to buckle, according to the county Fire Department.
Firefighters responded to the scene and found a man outside the structure with severe burn injuries. A woman, who had suffered blunt force trauma and a significant head injury, was partially covered by debris inside the home, officials said.
Fire personnel extricated the woman and transported both of the injured to Arrowhead Regional Medical Center in Colton.
During a subsequent search, a deceased man was found under "several tons" of reinforced concrete and other material, the SBCFD said. His body was recovered hours later, after the debris was removed.
The explosion caused burn injuries but did not ignite a fire at the location, according to officials.
Investigators had believed the incident was the result a natural gas leak, and initially said no evidence was found to indicate the blast was caused by a drug lab. Crews from the Southern California Gas Co. were called to the scene and later ruled out natural gas as a factor.