This is an archived article and the information in the article may be outdated. Please look at the time stamp on the story to see when it was last updated.
A man in possession of multiple illegal weapons was arrested after being found driving an all-terrain vehicle in Barstow shortly before midnight, when he claimed to be "Mad Max," authorities announced Friday.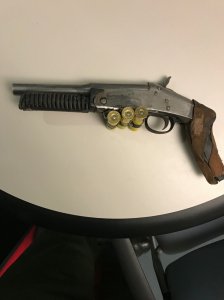 Jack Lee Ernest, 49, told the arresting deputy that he "fashioned himself as 'Mad Max,' a reference to a violent movie involving deadly assaults from vehicles," stated a news release from the San Bernardino County Sheriff's Department.
Ernest was driving a quad on Old Highway 58, which runs north of town and mostly parallel to the 15 Freeway, about 11 p.m. Thursday when Deputy Kenneth Bubier stopped him due to the "suspicious late hour," the release stated.
Ernest tried to flee and behaved suspiciously, prompting Bubier to detain him.
A pat-down search revealed Ernest carrying "numerous illegal weapons," including a sawed-off shotgun with "ammunition tactically attached to it for easy access." He also allegedly wore two large knives positioned for easy access, and had brass knuckles.
Ernest, a Barstow resident, was booked into the desert city's jail on suspicion of possession of illegal weapons. His bail was set at $30,000. His ATV was towed and is in storage.
A booking photo of Ernest is not being released.