This is an archived article and the information in the article may be outdated. Please look at the time stamp on the story to see when it was last updated.
More than two dozen immigration activists were arrested as they gathered outside a federal courthouse in downtown Los Angeles Tuesday morning during a planned visit by Attorney General Jeff Sessions.
The protest drew a crowd of over 200 people outside U.S. Attorney's Office building on Spring Street, just south of the 101 Freeway, beginning around 8 a.m. Protestors chanted slogans of solidarity in Spanish and shouted, "Shame on Sessions."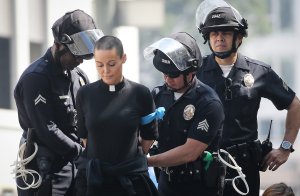 Police were heard declaring an unlawful assembly after a line of demonstrators, among them several clergy members, linked arms across Spring Street, blocking the road to traffic as they chanted "Kids belong at home, not in cages."
"As religious leaders, we are here saying that it violates everything about who we are as people of faith," said the Rev. Sandy Olewine of Pasadena's First United Methodist Church. "We have zero-tolerance for zero-tolerance."
Olewine said she would be willing to be arrested for this issue.
So far, 25 people have been arrested for failure to disperse, said Los Angeles Police Officer Jeff Lee. People were seen being taken away in handcuffs around 10 a.m., about two hours after they had assembled.
The demonstrators were either arrested and taken to jail where they would be cited, or they were issued a citation and released, officials said.
Some protestors wore children's onesies pinned to their chests to represent the immigrant youth separated from their parents by the Trump administration. Others were seen wearing blue arm bands, indicating they intended to be taken into custody for their actions.
Bethany Webb of HB Huddle, a local organization of activists from Orange County,  said she feels all Americans should be standing up against the administration's inhumane tactics. "Every human being should feel heartbroken right now and demand better of our country," she told KTLA.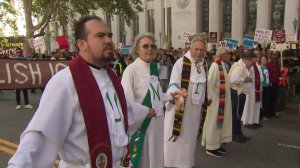 Webb attended Tuesday's protest alongside other members of HB Huddle, one of whom said the family separation policy is "reminiscent of Nazi Germany."
"We always say never again, and we're letting it happen. We can't. This is America. We can't let that happen here," the woman said.
Sessions was in town to speak at the nonprofit Criminal Justice League Foundation's annual luncheon, held Tuesday afternoon at the Millennium Biltmore Hotel on Grand Avenue.
On Monday, Sessions defended the administration's "zero-tolerance" immigration policy as criticism over the resulting separation of parents and children entered a new week.
Speaking to a gathering of school resource officers in Reno, Nevada, Sessions blamed Obama-era border directives for forcing action on a trend of immigrants crossing as families that had "surged dramatically," and sought to associate the young children with high caretaking costs and public safety threats.
But he also tempered his rhetoric with a nod to the humanitarian backlash being driven by daily reports of the more than 2,000 boys and girls who had been separated from their parents and placed in detention centers and shelters across the country.
"We're going to continue to prosecute those adults who enter here illegally. We're going to do everything in our power, however, to avoid separating families. All federal agencies are working hard to accomplish this goal," Sessions said.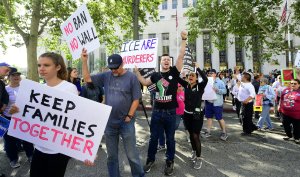 The Justice Department on Thursday asked a California court to modify a federal order limiting the ability of US officials to detain immigrant children for more than 20 days — a central thrust of the executive order signed by President Donald Trump last week that was widely seen as a reversal of the hardline tactic.
Immigration experts have cautioned that the move is unlikely to succeed in the courts, and Sessions expressed frustration with his options on Monday.
"Let me tell you. This is a difficult and frustrating situation. I have spent hours, days, months — so has our legal — working with Homeland Security, working with Border Patrol, our ICE officers, who are trying to deal with the loopholes and problems that are created in our system, and lawyers over the years have developed more and more clever ways to frustrate the normal expected enforcement of these laws," Sessions said.
"And while we want to keep these families together, we need Congress to act. We really do," he said.
Sessions also used his time in front of the school resource officers conference to list examples of violence by MS-13 in the US in grisly detail and, at one point, tied the gang directly to the population of immigrant children.
"MS-13 is recruiting children who were sent here as unaccompanied minors. They come here with not roots and minimal connections and they seek to recruit from them. And some come here, and are brought here, and sent here by the gangs in Central America to strengthen and replenish the MS-13 gangs," he said.