This is an archived article and the information in the article may be outdated. Please look at the time stamp on the story to see when it was last updated.
After years of sleuthing, federal agents Wednesday raided San Gabriel Valley homes and an office that investigators have linked to an alleged multimillion-dollar immigration and finance scam that allowed wealthy Chinese investors to obtain U.S. residency.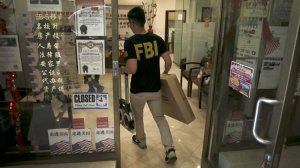 The suspects in the case are accused of collecting $50 million from scores of Chinese nationals, who were granted permission to live in the United States in exchange for investing the money in development projects that authorities say never occurred.
The money, investigators claim in court records, fueled a luxurious life of multimillion-dollar homes and high-priced cars for the alleged masterminds of the scheme — Victoria Chan, an attorney; Tat Chan, her father; and Fang Zeng, the father's friend.
The raids come as money has poured into the San Gabriel Valley in recent years from China, causing home values to soar and fueling a boom in upscale development catering to wealthy visitors from the mainland.
Click here to read the full story on LATimes.com.