This is an archived article and the information in the article may be outdated. Please look at the time stamp on the story to see when it was last updated.
Los Angeles police declared an unlawful assembly and made several arrests after supporters of the DACA program blocked traffic on Wilshire Boulevard in Westwood on Thursday morning, backup up traffic on the popular thruway and prompting outrage among motorists.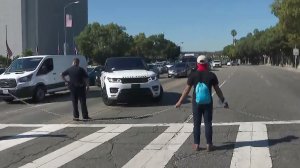 The protest, at the intersection of Wilshire Boulevard and Veteran Avenue, took place on the same day that eligible recipients under the Deferred Action for Childhood Arrivals program have to file to renew their status.
Demonstrators expressed their support for the program, which was enacted under former President Barack Obama.
When President Donald Trump announced the end of the program a month ago, he put in place a six-month delay on expiring protections by allowing any recipient whose DACA expires by March 5 until Thursday to apply for a two-year renewal. Otherwise, the program that protects young undocumented immigrants brought to the U.S. as children from deportation will begin to end on March 5, as the two-year permits of nearly 700,000 active protectees begin to run out.
Using chains and bunk bed frames, and carrying posters and signs, dozens of immigration rights activists were able to effectively shut down the intersection to motorists and disrupt the late-morning commute.
"There is nothing more unsafe than taking more people away from our communities, ripping parents away from their children and ripping children away from their parents. There is nothing more harmful to our country and nothing more harmful to me," said one demonstrator, her voice choked with emotion, as she stood in the middle of the street.
A number of frustrated motorists who were stopped on the street amid the demonstration honked their horns in anger, telling KTLA they were headed to nearby UCLA Medical Center.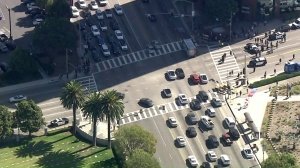 "We're trying to get to the school and the hospital, can they get out?" one driver said.
Some motorists even got out of their stopped vehicles to confront protesters in the intersection, resulting in some heated verbal clashes, video from the scene showed.
Still, demonstrators held firm, defending and explaining their actions.
"It's frustrating for the families involved, for the people involved, communities. I'm with United Methodist Church, I'm a campus minister at UCLA. I work with undocumented community ... the frustration of the traffic wars are the daily frustration families and students face trying to just simply have a life," one woman said.
It was not immediately clear when protesters started blocking traffic, but by 10:30 a.m., LAPD officers arrived at the scene.
The department urged people to avoid the area, "due to an unexpected immigration rights protest. Heavy traffic congestion reported," LAPD tweeted.
A short time after, officers appeared to take several demonstrators into custody, aerial video from Sky5 showed.
Before he was handcuffed by police, Jonathan Perez, co-found of the Immigrant Youth Coalition, told KTLA, "I'm feeling powerful because the community is here, and because we are here unafraid, fighting for our right to be human."
By 10:40 a.m., Los Angeles Police Department Detective Ross Nemeroff confirmed they had declared unlawful assembly. LAPD Officer Irma Mota added that dispersal order had been issued.
Nine people were arrested, all in connection with a failure to disperse order that was issued, LAPD Cmdr. Blake Chow confirmed.
After the roadway was cleared, demonstrators could be heard on the sidewalk chanting, "Let them go," a nod to those who were detained.
According to data provided Wednesday by a senior Democratic congressional staffer and confirmed to CNN by US Citizenship and Immigration Services, 42,669 individuals nationwide -- or 27.7% of the 154,234 people eligible -- had not submitted their applications. That was slightly down from roughly 48,000 that the Department of Homeland Security said Tuesday hadn't yet submitted.
Democrats have repeatedly implored DHS to extend the deadline, saying one month to gather paperwork -- and the roughly $500 application fee -- is not long enough for those affected.
They've been especially critical of DHS for not making special consideration for DACA recipients in states hit by hurricanes Irma and Harvey, though DHS did announce Tuesday it would make case-by-case decisions for recipients in Puerto Rico and the Virgin Islands affected by Maria.
The frustration bubbled up at a Senate hearing Tuesday, where Illinois Democratic Sen. Dick Durbin cited considerations the Internal Revenue Service was making for Texas, Louisiana and Florida residents.
"May I implore you, implore you, to do the same thing at DHS that our own Internal Revenue Service is doing," Durbin said to the DHS officials testifying. "If it's good enough for our tax collectors to have a heart, isn't it good enough for DHS to have a heart?"
According to the Wednesday data, more than 2,600 of eligible recipients in Texas had yet to submit renewals, 28% of the total eligible in that state. In Florida, more than 2,000, or 35% of those eligible, had yet to renew. In the US islands hit by Irma, 16 of the 37 eligible hadn't yet renewed.
Democrats have also been frustrated with DHS over its notification process, saying without individual notifications to those eligible for renewal, the administration should extend the deadline.
"We are very concerned that because DACA recipients were not individually notified of their eligibility for renewal, tens of thousands of DACA recipients could lose their work authorization and DACA status protections," Congressional Hispanic Caucus leaders wrote in a letter to acting DHS Secretary Elaine Duke on Tuesday repeating a request to meet about extending the deadline.
Trump said he was putting in place the six-month window to give Congress a sense of urgency to put the Obama administration executive action into law.
But despite Tuesday's hearing, multiple working groups and meetings the President has had with lawmakers at the White House, little substantive progress has been made.
The fault lines have remained consistent. Democrats support the bipartisan Dream Act that would protect eligible young immigrants who arrived as children and put them on a path to citizenship. They say they could accept border security as a compromise with it, but insist they will not vote for anything that could put the families and friends of those protected at greater risk of deportation.
But Republicans are also insistent that any DACA deal must include border security and likely immigration enforcement measures, and the more conservative members of the party are suggesting policies -- like mandatory worker verification, cuts to the legal immigration system and expanded deportation authority -- that would be almost impossible to get Democrats to agree to.
Any solution would likely have to include Democrats, as they'll be needed for passage in the Senate and to make up for Republicans in the House who would never vote for any DACA deal. But House Speaker Paul Ryan has also pledged not to move any bill that doesn't get the votes of a majority of Republicans, limiting the options.
Durbin was joined on Tuesday at the hearing by Sen. Thom Tillis, R-North Carolina, in urging lawmakers and the White House to not try to concoct too big a compromise. Tillis has sponsored legislation similar to Durbin's Dream Act that he bills as a conservative DACA solution.
Responding to a wish list articulated by a DHS senior staff member testifying about the White House's aims, Tillis grew frustrated and urged members to focus on a narrow deal as a starting point.
"It reads like a laundry list for comprehensive immigration reform, and if Congress has proven an extraordinary ability to do anything, it's to fail at comprehensive immigration reform," Tillis said.
KTLA's Jennifer Thang contributed to this story.