This is an archived article and the information in the article may be outdated. Please look at the time stamp on the story to see when it was last updated.
In-N-Out consumers will have more options than just a milkshake should they wish to finish off their double-double and fries with something sweet, now that the iconic Irvine-based restaurant has decided to once again include hot cocoa on its menu.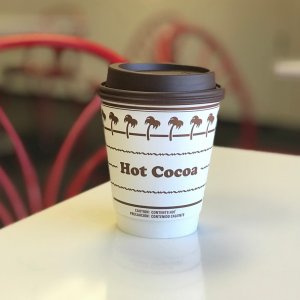 Known for its simple but classic menu of burgers, French fries, shakes and beverages -- and of course, some "secret items" like animal style fries -- In-N-Out's offerings have remained relatively static since the first one opened in Baldwin Park 70 in 1948.
But this addition is more like the return of a classic, according to Lynsi Snyder, the president of In-N-Out Burger.
Her grandparents, who founded the popular California fast-food chain roughly 70 years, served the item for "many years" starting in the 1950s, she said.
"I'm not sure how it fell off the menu but it's part of our culture and something special for kids, and I'm happy that we're bringing it back," Snyder wrote in a statement.
The Ghirardelli cocoa will be served with marshmallows, she added.
The hot chocolate costs $1.60 for an 8-ounce cup, according to the Orange County Register. That's a tad more than the company charged back in the 60s, when it was just $0.15.
"For a certain generation, hot cocoa is an In-N-Out classic, and we hope it will be a favorite of a new generation," Snyder wrote.
KTLA's Matt Phillips contributed to this story.