This is an archived article and the information in the article may be outdated. Please look at the time stamp on the story to see when it was last updated.
A section of Newport Beach coastline was covered with tiny clams this week, making a strange sight and a bumpy walk for beachgoers.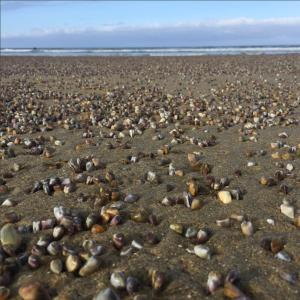 On Wednesday, the area north of Newport Pier was "absolutely carpeted" with a species called bean clams, according to Matthew Bracken, a biology professor at UC Irvine.
Such "abundances" occur once or twice per decade, and there are records going back to the 1800s showing the same species making such a spectacular appearance on the sand, said Bracken, who runs the university's Marine Biodiversity Lab.
"It's not terribly unusual but it is noteworthy in that people aren't used to seeing that many – that abundance or organisms – on a beach like this," Bracken said.
As many as 10,000 clams per square foot were present on the beach this week, Bracken said.
"Sometimes Mother Nature gives us a show," he said.
The bean clams are typically present on the beach. During high tide, the bivalves feed on microscopic algae in the water. Then, when the tide recedes, the dig back into the sand and wait for the water to return so they can feed again.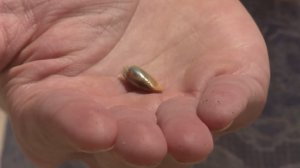 They are edible and make a tasty soup, Bracken said, but the Orange County clams probably shouldn't be consumed due to a recent sewage spill and harmful algal blooms off the coast.
The recent abundance may have been related to an unusual surf event that could have washed away some of the surface-level sand, the professor said.
On Thursday, most of the clams were no long visible. But that doesn't mean they're gone.
"The fact that they've left means they may have simply dug themselves down into the sand," he said. "They're probably still down there."