This is an archived article and the information in the article may be outdated. Please look at the time stamp on the story to see when it was last updated.
Three days after an unarmed teenager was shot during a confrontation with LAPD detectives who said the boy's friend held a replica handgun, civil rights activists on Friday called for policing reforms.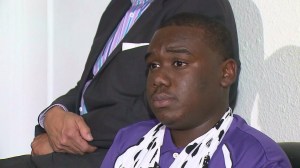 Multiple activists gathered to call for the department to improve training to aid officers in distinguishing a real gun from a fake one. Their request -- made at the scene of Tuesday's shooting of 15-year-old Jamar Nicholson -- came after police urged parents not to allow children to carry replica guns.
"Officers are professionals. They have to act like professionals," said Earl Ofari Hutchinson, president of the Los Angeles Urban Roundtable, which announced the Friday event.
"Their training has to kick in; their discipline has to kick in. Policies and procedures have to kick in to make sure we see no more Jamar Nicholsons," Hutchinson said.
Nicholson was walking to school with a group of other male teenagers just before 8 a.m. Tuesday when they were confronted by detectives in an alley near 10th and Florence avenues in Hyde Park.
The detectives spotted one of the boys holding what appeared to be a firearm, with no orange tip indicating it was fake, and pointing at another boy, Los Angeles Police Department Cmdr. Andrew Smith said Thursday.
They ordered the teen to drop the weapon but he didn't comply, Smith said.
"All of a sudden we hear 'freeze,'" Nicholson told KTLA. "We didn't know who it was. So I turned around and all I see is gunshots. I felt a gunshot. I got hit. And (they) immediately told us 'get on the f---ing ground.'"
The detectives opened fire, striking Nicholson in the back instead of the boy allegedly holding the gun. Nicholson was hospitalized, treated and released.
Police initially said officers fired on a man with a gun, wounding him. On Wednesday, the department acknowledged an unarmed teen -- who was not holding a fake gun -- was the one injured.
Nicholson told KTLA he never saw his friend playing with a fake gun.
On Thursday, police held a news conference to discuss the incident and issue a warning about replica guns, seeking to show how similar they could appear.
"If you were a police officer ... would you be able to distinguish which one of those two pistols is a real one and which one is a fake gun?" Smith said, pointing at the replica and an actual handgun on a table.
On Friday, civil rights leaders from South Los Angeles said LAPD should review its policy in connection with toy guns, and further train officers in distinguishing between real and fake firearms.
They also called for the officer involved in the shooting to be fired.
"We do not want that type of policing in South L.A.," said Najee Ali, president of Project Islamic Hope.
LAPD Chief Charlie Beck wants to see toymakers required to paint replica handguns in bright hues.
The civil rights leaders gathered Friday supported that idea, but said there was no justification for the shooting of an unarmed teen, especially one that was not even holding a replica firearm.
More Video: