This is an archived article and the information in the article may be outdated. Please look at the time stamp on the story to see when it was last updated.
A 20-year-old Indiana man arrested in Santa Monica with assault rifles — one allegedly loaded with a 30-round magazine — and chemicals to make explosives, among other weapons, was charged Tuesday with multiple criminal counts, authorities said.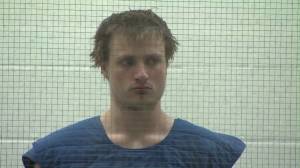 James Wesley Howell appeared for arraignment in the Airport Courthouse in Del Aire Tuesday afternoon, with his public defender entering a not guilty plea on his behalf.
When he was taken into custody after knocking on a Santa Monica resident's door and windows early Sunday, he told investigators he was headed to L.A. Pride in West Hollywood, police said.  The incident occurred just hours after a mass shooting at a gay nightclub in Orlando left 49 victims dead, raising further alarm about Howell's intentions.
He was charged with one felony count each of unlawful possession of an assault weapon, possession of a destructive device on a public street, manufacturing or importing large magazine and carrying a loaded firearm in a vehicle, the Los Angeles County District Attorney's Office announced.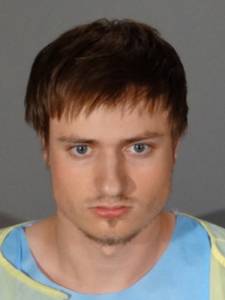 Santa Monica police said officers found Howell in his vehicle, which had Indiana plates, in the 1700 block of 11th Street, near Olympic Boulevard.
In court documents released Tuesday, Santa Monica police Detective Derek Leone said Howell had a three-fifths-full 25-pound container of Shoc-Shot, a commercially available "binary explosive," on the front passenger floorboard.
"The amount of explosives in the container would have posted a grave danger to both persons and property had the explosives been detonated, either intentionally or accidentally, in a public space," Leone wrote in a statement supporting prosecutors' request to increase Howell's bail amount.
Howell had three rifles in the car, Leone wrote, including an Anderson Manufacturing AM-15 .223-caliber rifle loaded with a 30-round detachable magazine with a second 30-round magazine taped to it.
He also had a loaded .30-06-caliber bolt-action rifle and a .22-caliber Ruger semi-automatic rifle, according to the detective's statement.
The weapons were believed to have been purchased by Howell's father, the prosecutor said in court, citing a federal trace of the firearms.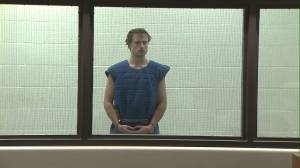 Rounds from either of the first two rifles could have detonated the explosive, Leone said.
Howell also had a Taser, handcuffs, a buck knife, a security badge, a black hood, more ammunition and a 5-gallon container of gasoline.
"Based on this combination of materials, it is my opinion that the defendant poses a significant danger to the community," Leone wrote.
In court, the prosecutor said the gasoline could be used in conjunction with the Shoc-Shot to form a mixture similar to that used in the 1995 Oklahoma City federal building bombing, which killed 168 people.
Howell in April had pleaded guilty to an intimidation charge in Clark County, Indiana, and under the terms of his probation, he was required to forfeit any weapons. A motion to revoke his probation was filed in Indiana court Monday.
An Indiana restraining order also prohibited Howell from having firearms, Leone wrote.
Leone called Howell was a flight risk, saying the defendant had driven from Indiana to California, where he has no known ties. Howell told police he left Indiana "due to his concerns over existing or pending criminal charges" there, Leone said.
The county prosecutor's request that Howell's bail be raised from $500,000 to $2 million was honored by the judge over the opposition of Howell's attorney.
The judge cited Howell's Indiana conviction and order not to possess firearms, as well as the danger of the weapons the defendant allegedly had, in raising the bail amount.
Howell was ordered to return to court on June 29.
The FBI served a federal search warrant on Howell's home in Clark County on Monday evening, a spokeswoman for the FBI's Los Angeles Field Office said. Television stations in Louisville, Kentucky, reported that Howell's parents home in Jeffersonville, Indiana, was searched.
The FBI is working with the Santa Monica Police Department on the case.
Howell faces nine years, eight months if convicted on the California state charges.
He has not been charged with any federal crime, but the FBI spokeswoman said the investigation was continuing.
A 17-year-old boy who spoke to KTLA's sister station in Indianapolis, WXIN, said he was Howell's ex-boyfriend. The boy said Howell had threatened him and his coworkers in past.
Howell is also under investigation as a suspect in an alleged sexual assault in Clark County, the Clark County Sheriff's Office confirmed Tuesday. The office said it was cooperating with the FBI.
The alleged assault occurred May 31. No details were being released.