This is an archived article and the information in the article may be outdated. Please look at the time stamp on the story to see when it was last updated.
The 20-year-old Indiana man who was arrested in Santa Monica Sunday with three assault rifles, ammunition and a bucket of chemicals for making explosives had threatened his 17-year-old ex-boyfriend and the ex-boyfriend's coworkers months earlier, the teen said Monday.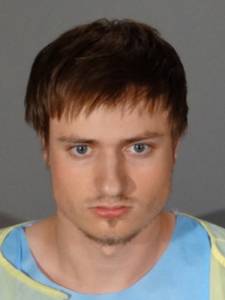 James Wesley Howell was arrested by Santa Monica police around dawn Sunday, just hours after a terror attack left 50 people dead, including the shooter, at a gay nightclub in Orlando, Florida.
In Santa Monica, Howell repeatedly knocked on a resident's door and window, police said.
"When I saw the rifle, I started crying," said the resident, who asked not to be identified. "I thought, the guy is coming to kill me."
The woman hid in the bathroom.
"So, … if he shoots me, he won't get me," she said.
Officers who responded found him seated in a car with Indiana plates that held three assault rifles, high-capacity magazines, ammunition and a 5-gallon bucket of chemicals, police said.
Howell's apparent references to the L.A. Pride event in West Hollywood, as described and then downplayed by Santa Monica police, brought intense attention to his arrest in the wake of the Orlando massacre. Howell said he intended to go to L.A. Pride, police said.
A young man who said he was Howell's ex-boyfriend told WXIN, KTLA's sister station in Indianapolis, on Monday that Howell had in October 2015 called the teen's workplace and threatened him and other workers.
"He had called up there to my job and said that he would come up there and shoot everybody there, kill everybody," the boy told WXIN, asking not to be identified.
He pointed a rifle at the teen and sent him threatening text messages other times, the boy said.
"He would explode violently like that and do things with his guns, so it didn't really surprise me," the teen said of Howell's arrest. "He's out there with explosives and all these guns, but who carries all these guns in a car and goes to a gay pride event?"
The teen said he felt lucky that Howell hadn't hurt him physically.
"I felt more at ease when I knew that he was in custody," the boy said.
In October 2015, Howell of Jeffersonville, Indiana, was charged with intimidation and pointing a firearm at another in Clark County, Indiana, court records indicate.
In a plea agreement, the firearm charge was dismissed and Howell pleaded guilty to intimidation in April 2016. He was ordered to have no contact with the victim and forfeit all weapons during his probation.
A petition to revoke his Indiana probation was filed Monday, a day after Howell's Santa Monica arrest, the court records show.
Santa Monica police provided no new information on Howell Monday. The FBI was helping with the case, police had said Sunday.
In the Santa Monica case, Howell is due to appear at the Airport Courthouse Tuesday, inmate records show. He's being held on $500,000 bail.