This is an archived article and the information in the article may be outdated. Please look at the time stamp on the story to see when it was last updated.
The leering likeness of Sen. Al Franken grabbing at a woman loomed over morning commuters on the 10 Freeway through Palms on Thursday.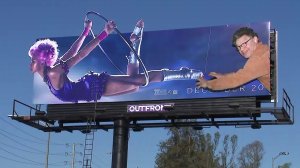 A conservative street art collective has claimed responsibility for transposing the image over an existing billboard for the film "The Greatest Showman" that stands outside a Mobile gas station at the intersection of Overland Avenue and National Boulevard, just off the freeway.
Franken appears to emerge from the right side of the billboard, leaning across to grab a trapeze artist suspended in mid-air, portrayed by the actress Zendaya. (On the other side of the road, a billboard features her costar Zac Efron reaching out to catch her, photos obtained by the Hollywood Reporter show.)
The Franken photo was captured as he groped the breasts of a sleeping Leeann Tweeden while the two were on a USO tour in Iraq in 2006, but surfaced only two weeks ago after it was publicly released by Tweeden.
At least four other women have come forward to accuse Franken of sexual misconduct. Most recently, on Thursday, Army veteran Stephanie Kemplin said the Minnesota Democrat cupped her breast during a 2003 photo op, also while he was on a USO tour.
UnsavoryAgents, the group of "libertarian, constitutionalist, conservative street artists" behind the Palms billboard, hopes the installation will inspire passersby to question those in leadership positions, according to a member of the collective who spoke to KTLA on the condition of anonymity.
"We want them to laugh, we want them to think, and we just don't want these elitists — these people in their ivory towers — to be constantly looking down their nose at the working class," the man said.
The original billboard remained intact underneath its new addition, he added.
The Franken image was removed from the billboard by afternoon.
CNN Wire contributed to this report.
https://twitter.com/unsavoryagents/status/936232213774974976