This is an archived article and the information in the article may be outdated. Please look at the time stamp on the story to see when it was last updated.
Investigators were searching for "significant portions" of a dismembered infant's body after children discovered the gruesome remains near a South L.A. home on Saturday, Sheriff's Department officials stated.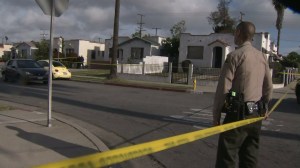 Homicide detectives responded to a suspicious circumstance call in the 1500 block of West 104th Street in unincorporated Westmont (map) around 11:04 a.m., the Los Angeles County Sheriff's Department stated in a news release.
An infant, 1 to 3 days old, was discovered by two children, believed to be about 5 and 9 years old, officials said.
The children's mother said they were playing before church when they found the baby's leg.
The baby's head was later recovered, officials said.
"Significant portions of the body are still missing," the news release stated.
People living near the home were "urged to look in their yards and trash cans for suspicious items that have been discarded," the news release stated.
"Second, detectives would like to speak with any females who were recently pregnant, are no longer pregnant, and the baby is absent," investigators said.
Anyone with information was asked to contact the Sheriff's Department at 323-890-5500.
More video: