This is an archived article and the information in the article may be outdated. Please look at the time stamp on the story to see when it was last updated.
A 24-year-old man who was shot and killed in Inglewood Tuesday played football for two out-of-state universities, officials said.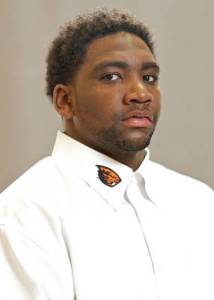 Joshua Williams, 24, of Inglewood, was shot in the upper torso about 5:35 p.m. in the 7900 block of South Van Ness Street, according to the Inglewood Police Department. He was taken to a hospital, where he was pronounced dead.
No arrests have been made.
Williams was recruited by Oregon State University from Salesian High School, a Catholic school in Boyle Heights, according to his biography on the university website.
He joined the football team in the spring of 2011 and played in four games during his freshman year.
He was on the active roster, but did not play in 2012. He apparently was a candidate to be the new starting middle back for the school in 2013, but transferred to Kentucky State University, according to the Oregonian newspaper.
Williams played at Kentucky State from 2014 to 2016, university officials said.
He was going to return to the university for his final season, according to the Oregonian.
"KSU Athletics is deeply saddened by the loss of one of its own," William Head, director of athletics for the campus said. "Another senseless act of violence silences a potential voice of leadership."
Anyone with additional information about the shooting can call the homicide section of the Inglewood Police Department at 310-412-5246.
We are very saddened by the news of the tragic passing of former Beaver Josh Williams. Our thoughts and prayers to his family and friends.

— Oregon State Football (@BeaverFootball) June 16, 2016
https://twitter.com/_caasss_/status/743182287483768832/photo/1