This is an archived article and the information in the article may be outdated. Please look at the time stamp on the story to see when it was last updated.
The body of a nonverbal 9-year-old boy with autism was found in a swimming pool at an Inglewood park hours after he was reported missing at the same park, authorities said.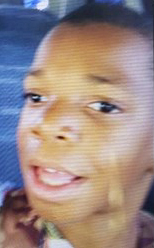 Zavire Dion Portis was last seen just before 4 p.m. when he walked away from his mother's car, which was parked at Edward Vincent Jr. Park, in the 700 block of E. Warren Lane, the Inglewood Police Department said in a written statement.
"We got a call about 4 p.m. from a frantic mother that she had lost her child over here at Edward Vincent Park," Lt. Neal Cochran told KTLA. The woman told police she had her three children with her when she stopped the car and got out to get a drink of water from a fountain.
"When she went back to the car, the other siblings told her that the child had wandered off," the lieutenant said.
Police brought in a helicopter and a bloodhound to help look for the boy.
The search came to a tragic end about 10 p.m., Cochran said. A group of neighborhood children spotted a body at the bottom of the park's swimming pool.
"We called the officers over, they dove in and they got him," Cochran said.
The pool was blocked by a gate, which officers had to kick open to access the pool, police said. But it appeared possible for a small child to slip through an opening in the gate.
Complicating the investigation, the boy's siblings also have special needs, Cochran said. "So they couldn't give us the most articulate statements."
The incident initially appeared to be an accident, he said. But police planned a full investigation to rule out the possibility of foul play.
No further details were available.
Anyone with information can reach the Inglewood police at 310-412-5211.