This is an archived article and the information in the article may be outdated. Please look at the time stamp on the story to see when it was last updated.
A person of interest was detained Wednesday in the deaths of two women who were killed in an Inglewood apartment shooting that left a man seriously injured on Tuesday, police said.
The shooting occurred just before 1 p.m. Tuesday in the 11700 block of Crenshaw Boulevard, according to the Inglewood Police Department.
On Wednesday afternoon, Justin Marquis Scott, a 19-year-old from Compton, was taken into custody, Inglewood police announced Wednesday evening.
Scott is thought to be the ex-boyfriend of Crystallyn Nguyen, 18, who was killed along with Dora Lee Dawson, 68, police said in a news release.
Datwan Henderson, 22, was in critical condition with two gunshot wounds.
The investigation was continuing, but police said it's believe the shooter approached Henderson at the rear of his home and an altercation occurred.
The gunman produced a gun and chased Henderson into the apartment, where Henderson, Dawson and Nguyen were shot, according to the police news release.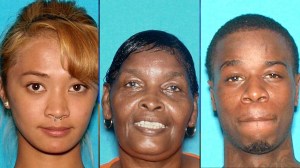 All three victims had been transported to the hospital Tuesday in critical condition.
A man on the scene of the shooting Tuesday told KTLA that Dawson was Henderson's grandmother.
The man, Shawn Williams, said Dawson was his own mother-in-law, and he speculated that the older woman had "got caught in the middle" of a conflict over Crystallyn, whom witnesses said went by "Asia" and was dating Henderson.
Anyone with information was asked to call Inglewood police at 310-412-5240 or, to remain anonymous, at 888-412-7463.
Dawson's daughter and Henderson's mother, Shamika Shoels, was raising funds for funeral expenses, hospital fees and to help the family move out of Inglewood. To donate, go to her giveforward.com page.
KTLA's Dave Mecham and Kimberly Cheng contributed to this report.