This is an archived article and the information in the article may be outdated. Please look at the time stamp on the story to see when it was last updated.
An 8-year-old boy has died Thursday evening, hours after a crash that left a baby dead and three others with major injuries on the 14 Freeway near Acton.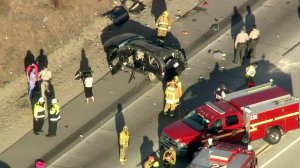 The crash occurred on the northbound side of the roadway near the Red Rover Mine Road off-ramp at about 6:30 a.m., according to the California Highway Patrol's traffic incident log.
The vehicle had veered to the right before hitting an embankment and overturning, CHP Officer Josh Greengard said.
Five people were injured, including three young children who were all in critical condition immediately following the crash, Los Angeles County Fire Department Supervisor Pittman said.
A 1-year-old was pronounced dead a short time after the crash. Authorities later said the 8-year-old had also died of his injuries.
The other victims suffered "major injuries," Greengard said.
The crash victims included a 37-year-old woman, a 1-year-old and 8-year-old boy and girl twins, CHP Officer Siara Lund said, and the fifth victim was later identified by family as a 14-year-old.
All of the children had required a helicopter transport to nearby hospitals, Pittman said.
Video showed a person being extricated from the damaged vehicle's passenger side about 6:54 a.m.
Just moments later, a helicopter was landing on the freeway to pick up two of the injured.
A second helicopter then landed to transport a third person.
Aerial video from Sky5 showed what appeared to be a child being given CPR while being taken toward the second helicopter.
There was no word on a possible cause for the crash.
Officials had shut down the northbound side of the freeway as crews worked to help the victims and helicopters landed to pick up patients.
One lane on the northbound side of the freeway was reopened just before 7:30 a.m., video showed.