This is an archived article and the information in the article may be outdated. Please look at the time stamp on the story to see when it was last updated.
A correctional officer was injured during an attack by an inmate at the California State Prison in Lancaster, according to the Department of Corrections and Rehabilitation.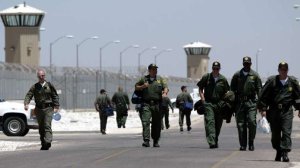 The attack occurred about 10 p.m. Saturday when two officers approached George Hudson, 30, and told him he was being placed on "restricted status" for violating prison rules and regulations after he was caught possessing a cellphone.
At one point, Hudson turned toward one of the officers and punched him in the nose, prison officials said in a statement. The second officer tried to put Hudson in handcuffs but he resisted and elbowed that officer in the chest, officials said.
"Hudson broke away and ran toward a third responding officer, who used pepper spray to subdue the attack," prison officials said.
Read the full story on LATimes.com.