This is an archived article and the information in the article may be outdated. Please look at the time stamp on the story to see when it was last updated.
Dan Bilzerian, an extremely wealthy social media celebrity who has been called the "King of Instagram," was arrested at Los Angeles International Airport late Tuesday, police said.
Bilzerian, 34, was booked at LAPD's Pacific Division shortly after 10 p.m., jail records showed.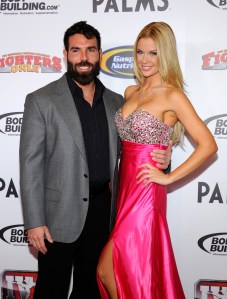 He was being held without bail, but was released at 1:16 p.m. Wednesday after charges were dropped, according to an official at the Los Angeles County jail's inmate reception area.
According to LAPD Officer Jack Richter, Bilzerian had been arrested on a fugitive warrant out of Nevada.
He had faced felony charges in the state, including possessing or manufacturing explosive or incendiary devices, according to a criminal complaint filed in Las Vegas on Nov. 13.
Charges in that case were not dropped, Clark County District Attorney's Office spokeswoman Audrie Locke said in an email to KTLA after Bilzerian's released from custody in L.A. Locke said she had no information on why Bilzerian was released.
On Nov. 4, Bilzerian illegally possessed "ammonium and/or cooler and/or aluminum powder" and "ammonium nitrate mix," according to the criminal complaint.
Bilzerian was charged along with Jeremy David Guymon in the case. Both were expected to appear in Las Vegas Justice Court on Jan. 9 for their arraignment, Locke said.
An attorney for Bilzerian, David Chesnoff, was able to get the arrest warrant recalled through the Nevada state courts system, according to the Los Angeles Times. Police could no longer keep Belzerian behind bars because he does not face charges in California, Chesnoff told the Times.
Shortly after his release Wednesday afternoon, Bilzerian was seen walking into his Hollywood Hills home by a KTLA reporter. Bilzerian said he had no comment.
He later posted the following on Twitter.
Jail… Let's not do that again pic.twitter.com/2h7YmjYf3n

— Dan Bilzerian (@DanBilzerian) December 11, 2014
A multimillionaire who was described by the Wall Street Journal in a profile piece earlier this year as being a "social-media celebrity," Bilzerian became Internet famous in part by documenting his lavish playboy lifestyle through frequent posts on Instagram.
His Instagram account features numerous photos of scantily clad women, along with his arsenal of weapons and an assortment of yachts, vehicles and private jets. To date, the account has more than 5.7 million followers.
Bilzerian is also known as a high-stakes poker player, and has estimated earning some $50 million in winnings in a 12-to-14 month stretch recently, the Wall Street Journal reported.
He has also worked as an actor and stuntman in Hollywood, appearing in recent films such as "The Equalizer," "Cat Run 2," and "Lone Survivor," according to his page on the Internet Movie Database.
KTLA's Melissa Pamer, Jennifer Thang and Steve Bien contributed to this story.