This is an archived article and the information in the article may be outdated. Please look at the time stamp on the story to see when it was last updated.
TUSTIN, Calif. (KTLA) — A local family has taken to social media in a campaign to get their insurance company to pay for a cochlear implant for 6-month-old Nixon "Wildcard" Hunter.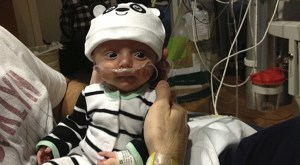 "The fact that my son can't hear me, it breaks my heart, that I can't sing to him to sooth him, it breaks me up inside," Stephanie Hunter said.
Nixon's parents started a campaign on change.org after being told by United Healthcare that Nixon's implant was considered 'elective surgery,' and was not covered by their policy.
"The fact that United Healthcare is calling the ability to hear an elective surgery is just unbelievable to us," Rich Hunter said.
Nixon, a premature baby, has battled Jaundice, thrombocytopenia (low platelet counts), gastric tube surgery and open heart surgery, according to Hunter's post on change.org.
He also has profound hearing loss in his right ear.
"We were shocked that after overcoming so many other health issues, Nixon is now being refused coverage for hearing loss and recovery," Hunter said.
"This should be available to all families who are paying for insurance."
Hunter said the cost of the surgery without insurance is approximately $125,000 per ear.
A representative for United Healthcare told KTLA the procedure is covered for its fully insured members.
But, since the family's insurance was through Stephanie's employer her coverage could be limited.
The representative said he was looking into Nixon's case and hoped to find a resolution.