This is an archived article and the information in the article may be outdated. Please look at the time stamp on the story to see when it was last updated.
A 29-year-old man who allegedly broke into a woman's Santa Ana home, took off his clothes and climbed into bed with the sleeping victim was arrested after he left behind his driver's license, police said Monday.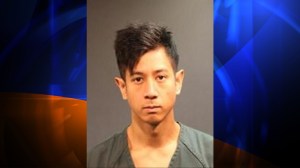 Jonathan Phan was accused of breaking into the victim's home in the 2100 block of West Civic Center (map) last month, a news release from the Santa Ana Police Department stated.
During the alleged break in, Phan removed his clothes, got into the victim's bed and fell asleep, according to the release. When the woman woke up and saw him, she screamed, prompting Phan to get out of the bed and flee by jumping through a window.
In his haste to leave, police said the suspect left behind his pants, cellphone and wallet, which contained his driver's license. Patrol officers used the ID to locate Phan.
He was arrested Friday on suspicion of residential burglary, the release stated.
Phan was being held on $50,000 bail, according to inmate records. He was scheduled to appear in court on Tuesday.
Phan is an actor and stuntman, according to his profile on IMDb.
More video: