This is an archived article and the information in the article may be outdated. Please look at the time stamp on the story to see when it was last updated.
Authorities on Wednesday continued to investigate the shooting death of a man whose body was found inside a parked vehicle in Colton the previous day.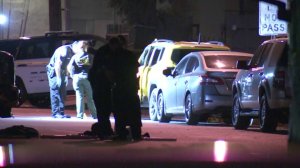 The Colton Police Department received a call about 3:42 p.m. Tuesday regarding a shooting and possible victim inside a vehicle in the 2100 block of North Rancho Avenue, Sgt. Tim Heusterberg announced in a news release.
When officers arrived, they located a man with multiple gunshot wounds to his upper body, the statement read. The Colton Fire Department responded to the scene and pronounced him dead.
The victim's name was not released pending notification of next of kin, but he was in his mid-20s and a resident of the San Bernardino area, according to the sergeant.
Law enforcement officials remained on the scene throughout the evening on Tuesday, placing evidence markers around a yellow Jeep parked in the street, video showed.
Investigators believe the weapon used in the homicide was a handgun, officials stated.
No information about a possible suspect was immediately available.
"We had numerous callers and witnesses say they saw several vehicles fleeing the area, however nothing specific," Heusterberg said. "We don't know if those vehicles were involved or if they were just fleeing because of the gunfire."
The San Bernardino County Sheriff's Department was helping Colton police detectives with the investigation.
Anyone with additional information about this case was asked to contact the Colton Police Department at 909-370-5000.