This is an archived article and the information in the article may be outdated. Please look at the time stamp on the story to see when it was last updated.
Investigators remained Wednesday morning at the Encino scene where police fatally shot a man suspected of killing his estranged wife in Santa Maria and fleeing with their 9-year-old son.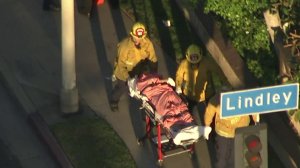 The boy, Daniel Morozov, was found "OK" at the location where his father, 48-year-old Konstantin Morozov, was shot dead by officers.
Information provided by police Tuesday night was preliminary and no detailed update has been given Wednesday morning.
Justin Eisenberg, the Los Angeles Police Department's chief of detectives, said Tuesday night that Morozov was shot after he emerged from an apartment in the 5500 block of Lindley Avenue, at the edge of Tarzana. The street remained blocked off until about 8 a.m. Wednesday.
The FBI's Fugitive Task Force, which includes LAPD officers, was following up on a tip received by Santa Maria police that Morozov was at the location.
"He confronted the officers and an officer-involved shooting did occur involving members of the Fugitive Task Force," Eisenberg said.
Aerial video from Sky5 showed an evidence marker next to gun and a slick of blood on the sidewalk outside the building, and Morozov being taken via gurney to an ambulance just before 7 p.m. He was critically injured and died, police said.
No officers were injured.
It's not clear whether Morozov had a gun in his hand, but Eisenberg said a firearm believed to be "associated" with the suspect was found at the scene.
A witness said he heard multiple shots, and another described an officer running to a car with a young boy.
The incident began Monday night, when the Santa Maria Police Department was called to a home where they found a woman who had been shot dead. Her estranged husband was quickly identified as a person of interest, and it was believed he might have the couple's 9-year-old son, Santa Maria police Detective Andrew Brice said.
An Amber Alert was issued across multiple counties, including Los Angeles.
Two vehicles connected to Morozov were found abandoned — one in Santa Maria and a second in Santa Barbara.
It's not clear when the boy was recovered from the Lindley Avenue location, or if he witnessed the shooting. Eisenberg said the child was being helped the Department of Children and Family Services workers to be placed with family.
The boy's mother was identified as Natalia Morozova, according to the Santa Maria Times, which reported she was remembered at a church service Tuesday night. A friend told the newspaper that all of Morozova's family was in Russia, so she turned to a community of Russian-speaking Central Coast residents for support.
She sought a divorce in recent years, and things turned "dark" in her tumultuous relationship with Morozov, the friend said.
There will be a Panikhida @ the Orthodox Church of the Annunciation tonight @ 6PM for Natalia Morozova. 877 Francine Lane in #SantaMaria pic.twitter.com/jXUkfJ7w6h

— George Kiriyama (@georgekiriyama) August 22, 2017