This is an archived article and the information in the article may be outdated. Please look at the time stamp on the story to see when it was last updated.
Officials were investigating after a man was wounded after police opened fire in Gardena Sunday.
Gardena police were responding to a domestic disturbance call near 160th Street and Denker Avenue around 11:40 a.m. when officers saw a vehicle fleeing the scene at a high rate of speed, said Lt. Rodney Moore with the L.A. County Sheriff's Department.
A short pursuit ensued as the suspect fled north on Western Avenue, deputies said.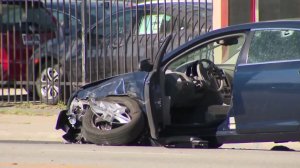 Near the intersection of Marine and Western avenues, the suspect's vehicle collided with another car.
Shots were fired after the man got out of his car, according to Moore.
"The occupant exited the vehicle but quickly attempted to reenter or reach in his waistband area," he said. "The officer feared that the suspect was attempting to arm himself."
The officer discharged about five to six rounds of ammunition, Moore said, striking the suspect at least once in his upper torso.
The man sustained injuries that were not life-threatening and was transported to a local hospital in stable condition.
No other injuries were reported.
Moore would not say whether a weapon had been recovered from the suspect's person or his vehicle, noting the investigation was ongoing.
The identities of the suspect and officer involved were not immediately known.