This is an archived article and the information in the article may be outdated. Please look at the time stamp on the story to see when it was last updated.
Authorities on Wednesday continued to investigate the cause of a vacuum truck explosion that occurred Tuesday morning at a wastewater disposal facility in the Santa Paula area.
The vehicle exploded about 3:46 a.m. at the Santa Clara Waste Water Co. at 815 Mission Rock Road (map), about half a mile southeast of the 126 Freeway, prompting mandatory evacuations, road closures and the cancellation of classes at two elementary schools.
An evacuation order remained in effect Wednesday morning for residents within half a mile of the scene, according to Ventura County sheriff's and fire officials. Mission Rock Road was closed to all traffic.
Briggs and Olivelands elementary schools were scheduled to reopen Wednesday.
The vacuum truck had been spraying a combustible white liquid at the time of the incident, Capt. Mike Lindbery of the Ventura County Fire Department said. The blast spread the hazardous material over a 300-foot radius, he said.
In an interview, Lindbery showed video from a body camera worn by a firefighter who was among the first responders on the scene. The footage showed a white substance on the ground igniting when it came in contact with a rubbish hook.
"So, basically, pressure or shock is setting this stuff off," Lindbery said. "You have large patches of it ignite and burn, much like you see a fuse burning in the movies or gunpowder burning along the ground."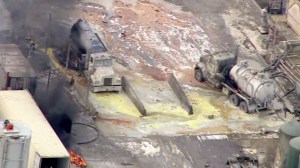 The material had combusted when it was stepped on or driven over by emergency personnel, he said.
The liquid was apparently comprised of sulfuric acid and an organic peroxide, according to Dr. Robert Levin, medical director of Ventura County Public Health.
Firefighters were proceeding with caution as they determined how to neutralize the unstable substance or remove it from the site, where it covered several vehicles and storage containers, Lindbery said.
Those at the scene who were hospitalized Tuesday included two workers, three firefighters and an ambulance driver, said Sheila Murphy, a county spokeswoman. Twelve others were being held for observation, she said.
Lindbery later said 37 people had been injured, mostly with minor injuries.
After assessing possible toxicity at a nearby Canine Adoption Rescue League facility, where animals had been "sheltered in place," firefighters Wednesday morning planned to enter the building and check on the animals, the Fire Department said.
More video: