This is an archived article and the information in the article may be outdated. Please look at the time stamp on the story to see when it was last updated.
A 41-year-old woman has died and her father-in-law was in custody following a stabbing related to a family dispute in Arcadia, police officials said Tuesday.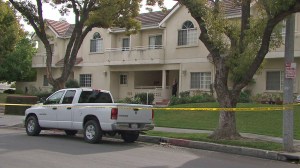 The victim was discovered shortly before 8:30 a.m. at an apartment complex in the 900 block of Arcadia Avenue (map), according to a news release from Arcadia police Chief Robert T. Guthrie.
The woman, identified as Xiaolin Li, was stabbed multiple times, according to police. She was rushed to Huntington Memorial Hospital where she was pronounced dead.
The suspect was 68-year-old Li Zhu, who was identified by other family members as the victim's father-in-law, according to police.
Zhu was booked in Arcadia jail on suspicion of murder; his bail was set at $1 million.
Li and Zhu lived together, along with other relatives, according to an updated news release sent out Tuesday afternoon by the Arcadia Police Department.
"The motive appears to be related to an ongoing dispute within the family," the release stated.
Initial police reports indicated that two people were stabbed, and two people had been detained in connection with the incident.
Authorities were continuing to investigate the incident. Anyone with information was urged to contact the Arcadia Police Department at 626-574-5151 or Crime Stoppers at 800-222-8477.
KTLA's Melissa Pamer contributed to this article.