This is an archived article and the information in the article may be outdated. Please look at the time stamp on the story to see when it was last updated.
Investigators have identified the vehicle and the driver involved in a hit-and-run crash that left a husband and father of two in critical condition in Norwalk, authorities said Monday.
The collision occurred about 2:30 a.m. Saturday on Fairford Avenue near Ratliffe Street, where 26-year-old Efren Virgen was struck by a "party bus" that kept on going. He was dragged more than 200 feet and was left with major injuries, including a crushed pelvis.
A witness came to Virgen's aid and called 911.
"Thank you for that person who helped him, cause if it wasn't for him, he wouldn't be here right now," said cousin Lupe Espinosa.
Virgen was out of a coma and talking Monday, much to the relief and surprise of his family.
"In a matter of a couple days, I mean, never expected this type of recovery from him," said brother Samuel Efren.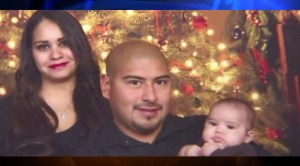 The Los Angeles County Sheriff's Department, which was investigating, identified the owner of the 1998 Ford E-450 bus that hit Virgen, according to a Monday news release.
Authorities said they know who was behind the wheel, too, but were not releasing his name. They hoped he would turn himself in.
The vehicle's owner was cooperating with the investigation, and the bus itself had been towed to a yard and was being held as evidence.
Authorities believed the driver knew he or she struck someone but continued driving nonetheless.
Witnesses said they saw interior neon lights and head music coming from the vehicle, which was last seen turning westbound out of view on Foster Road.
Virgen was set to undergo reconstructive surgery on Wednesday to repair his pelvis.
Anyone with information was asked to call the sheriff's Norwalk Station at 562-863-8711 or, to remain anonymous, 800-222-8477.
More video: