This is an archived article and the information in the article may be outdated. Please look at the time stamp on the story to see when it was last updated.
Investigators released a surveillance photo on Thursday showing a woman hours before she was killed at a Rolling Hills Estates mall last week in hopes that someone who saw her that day will come forward with information.
Detectives are continuing to develop leads as the man who had been detained in connection with the May 3 killing of 66-year-old Susan Leeds is no longer being considered a person of interest, Los Angeles County sheriff's officials said in a news release.
No arrests have been made in the case since Leeds' body was found with multiple stab wounds in her Mercedes-Benz SUV in the parking garage of the Promenade on the Peninsula.
After reviewing surveillance video and evidence from the scene, authorities have ruled out 62-year-old Jeffrey Leyson as a suspect, unless new information emerges.
Leyson had been detained and questioned as a person of interest on May 4, but sheriff's officials determined they did not have enough evidence to arrest him in connection with Leeds' death.
He was, however, arrested on suspicion of being under the influence of a controlled substance, according to Sheriff's Lt. Rodney Moore, the homicide investigator on the case.
He was released from custody the same day but was placed on a mental health hold. Moore said Leyson was "currently in a suitable facility obtaining appropriate care from providers."

Detectives are following several other leads, Moore said, but still hoping people who may have encountered Leeds in the hours leading up to her death will come forward.
Officials described her as a white woman who was about 5 feet 2 inches tall and weighed around 140 pounds. On her trip to the mall that day, she wore a blue, short-sleeved shirt and black exercise pants with pink-and-white shoes.
The 66-year-old was found dead around 12:20 p.m., and investigators are looking to speak with anyone who may have noticed anything out of the ordinary or suspicious at the parking structure or mall between 10:30 a.m. and 12:30 p.m. last Thursday, May 3.
Officials believe she was killed inside the garage, from which they have obtained surveillance footage.
The mall is in one of the main commercial districts on the Palos Verdes Peninsula, a wealthy suburban area with low crime.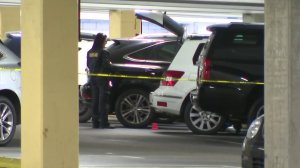 During a Q&A session with sheriff's investigators conducted via Facebook Live on Tuesday, Rolling Hills Estates Mayor Britt Huff said the brutal killing has "angered and shaken" the entire peninsula.
City Manager Doug Prichard echoed her sentiments: "When a crime like this occurs, there's not one victim; the whole peninsula is a victim."
The incident is the first homicide in the region in nine years, the Daily Breeze reported.
The Sheriff's Department is working tirelessly on the case and has allocated a large portion of resources to get the perpetrator into custody, Moore said.
However, detectives still do not know a motive behind the crime, nor have they identified a "particular suspect," he added.
Anyone with information or who may have spotted something suspicious May 3 can call the Sheriff's Department's homicide bureau at 323-890-5500. Anonymous tips can be submitted via Crime Stoppers at 800-222-8477 or LACrimeStoppers.org.
City officials intend to post daily updates on the case on the Rolling Hills Estates city website, whether there are developments in the investigation or not.