This is an archived article and the information in the article may be outdated. Please look at the time stamp on the story to see when it was last updated.
A body found in a dumpster in San Diego County was identified Sunday night as a 3-week-old girl who had been taken from a Long Beach home Saturday after a shooting there left her parents and uncle wounded, authorities said.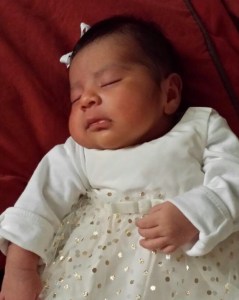 Officials from the San Diego County medical examiner's office confirmed the identity of Eliza Delacruz, Long Beach police Lt. Lloyd Cox said.
The announcement was made after homicide detectives with the Long Beach Police Department traveled to meet with their counterparts in the area where the deceased child was found.
No one was in custody in connection with the incidents.
Eliza had been missing since her three family members were shot shortly before 5:50 p.m. Saturday in the 100 block of West 51st Street (map), police said. The injured relatives were discovered by responding officers and transported to hospitals.
The infant's father was treated and released; her mother and uncle remained in critical but stable condition Sunday.
The father, who was walking on crutches, declined to be interviewed as he arrived home earlier in the day.
"They're afraid of a person coming back again, if they talk, and that they could be the victim of any retaliation," Cox said of the adult victims, who have not been publicly identified. "So they're terrified."
A preliminary investigation led detectives to believe the suspected gunman took Eliza immediately after the shooting and fled.
Earlier Sunday, authorities said an Amber Alert was not issued for the missing child because there was no specific description of the gunman or his vehicle.
"Although little is known about the suspect, detectives do not believe the shooting was a random act of violence," a police statement said.
Cox told reporters the circumstances of the incident do not "seem normal."
"It's not something we see," he said. "And so that makes us think it's specific and targeted to this family for some reason. We just don't know why."
An investigation was ongoing. Anyone with information was asked to call the Long Beach Police Department at 562-435-6711. Those wishing to remain anonymous may call 800-222-TIPS (8477) or text TIPLA plus the tip to 274637 or visit LACrimeStoppers.org.
More Video: