This is an archived article and the information in the article may be outdated. Please look at the time stamp on the story to see when it was last updated.
Investigators are looking for an additional man in connection with a rash of peeping incidents in Long Beach dating back to January after identifying more crimes in the series.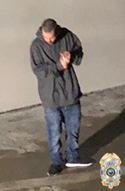 Last month, Long Beach police said they were searching for a man who was seen looking into the windows of women's homes. The victims were between 20 and 43 years old.
In the initial news release, police said the incidents occurred in the area of Bellflower Boulevard to Park Avenue and Stearns Street to Pacific Coast Highway. One incident occurred in July and three others occurred in October, police said.
On Friday, police said they were looking for a second man in connection with the crimes and identified nine additional incidents involving peepers. Investigators also released photos of the men believed to be involved.
In at least one instance, witnesses described a man using a high-pitched voice to speak to them.
The crimes occurred on the following dates:
Jan. 19 at 12 a.m.
Jan. 21 at 8:10 p.m.
April at 3:20 a.m.
May 11 at 2:25 a.m.
July 4 at 3:20 a.m.
Sept. 10, 12:50 a.m.
Sept. 20 at 5:40 a.m.
Sept. 23 at 5:50 p.m.
Oct. 23 at 2 a.m.
An unidentified person of interest is believed to be involved in the July 10 incident. He used a high-pitched, "almost female-sounding" voice at least once, officials said. He is described as being in his early 30s and around 5 feet, 7 inches tall with a medium build, close-shaven hair or a bald head, a stubbly beard and a "chubby face."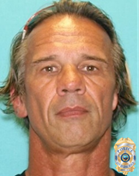 He was seen wearing a black hoodie and gray sweatpants.
The second person of interest was identified as Fredrick Terrence Harvey, 51, of Long Beach. Police believe he may be involved in one or more incidents and are asking for his help in finding him.
Police did not elaborate why they described the men as people of interest and not suspects.
Cynthia Butler told KTLA one of the men showed up at her home three times in September.
He would bang loudly on her door and windows, "saying things like, 'You're pretty. Let me in,'" she said.
"To have somebody within inches of you, trying to engage, trying to intimidate you, banging on your window, it's not a comfortable feeling," Butler said.
Butler said she spotted a man she believed to be the peeper Friday evening and reported the sighting to police, who searched the area but did not find the man.
Anyone with information was urged to contact the Long Beach Police Department's Sex Crimes Detail at 562-570-7368, or dispatch at 562-435-6711. Tips may also be submitted anonymously to L.A. Regional Crime Stoppers at 800-222-8477.