This is an archived article and the information in the article may be outdated. Please look at the time stamp on the story to see when it was last updated.
Federal and local investigators asked for help Monday identifying two individuals seen in video taken near the site of a massive fire that gutted an unfinished downtown Los Angeles apartment complex.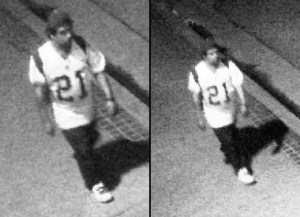 The two people were described as witnesses but not suspects in the Dec. 8 blaze at the Da Vinci Apartments complex.
Investigators want to talk to them to find out what they saw, smelled and heard before and during the fire, Los Angeles Fire Department Capt. Jaime Moore said.
In one of the videos released Monday, one of the individuals, clad mostly in black with a black-and-white baseball cap, can be seen appearing to attempt to jump the fence surrounding the burning buildings as flames leap in the background.
The person is pulled away from the fence by a firefighter in protective gear, the video shows.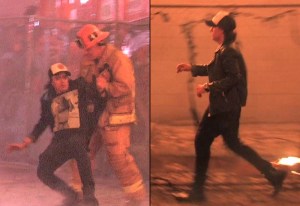 "Our captains … on scene didn't have that opportunity to really ask this individual what he was doing because they wanted to get him away from the scene. They wanted to continue fighting the fire," Moore said.
The other video appears to be surveillance video and shows an individual walking by in a football jersey with the number "21" on it.
The federal Bureau of Alcohol, Tobacco, Firearms and Explosives joined local arson investigators and police last week in investigating the blaze, which had not been deemed criminal.
It could take weeks or months before investigators determine the cause of the fire, authorities said last week. Accelerant-detecting dogs were being used to sift through the site, which Moore called "1.3 million square feet of rubble, just pancaked."
Anyone with information about the two individuals was asked to call the Fire Department's Arson Section at 213-893-9850.
More Video: