This is an archived article and the information in the article may be outdated. Please look at the time stamp on the story to see when it was last updated.
Speed may have been a contributing factor in the fiery single-car crash in Valencia that claimed the life of actor Paul Walker and a friend, investigators said Sunday.
Walker was a passenger in a 2005 Porsche Carrera GT, his publicist said.
The Los Angeles Daily News identified Walker's friend as Roger Rodas, 38, a Pirelli race car driver.
The actor and Rodas were attending an event for Walker's charity, Reach Out Worldwide, to aid Filipino victims of Typhoon Haiyan.
Walker, 40, was best known for his role in the "Fast and the Furious" movie franchise.
F. Valentino Morales, a producer who had been working with Walker on "Fast & Furious 7," remembered the actor Sunday at a makeshift memorial near the crash site.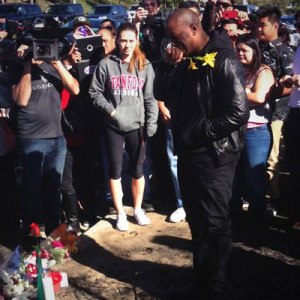 "We were very close," Morales said. Walker was "the nicest guy in the world," he said. "Everybody loved him. … He'll be missed."
Earlier Sunday, actor Tyrese Gibson, who appeared in multiple "Fast and the Furious" movies, wept as he stood at the crash site.
Sheriff's deputies responded about 3:30 p.m. to the 28300 block of Rye Canyon Loop (map), where they found a vehicle engulfed in flames,  the Sheriff's Department said.
The Los Angeles County Fire Department responded to the scene and extinguished the fire, the statement said.
Two victims were located inside the vehicle and were pronounced dead at the scene, the Sheriff's Department said.
"Speed was a factor in the solo vehicle collision," the department said in a statement. "The car was a red 2005 Porsche Carrera GT."