This is an archived article and the information in the article may be outdated. Please look at the time stamp on the story to see when it was last updated.
Detectives investigating the killing of a 19-year-old Ivy League student whose body was found in an Orange County park are running forensic evidence gathered at the scene for DNA to help identify a potential suspect, law enforcement officials said Thursday.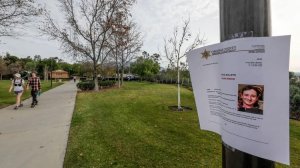 A search warrant affidavit in connection with the the investigation of Blaze Bernstein's homicide has also raised questions about the account of a friend who was the last person to see the University of Pennsylvania student.
The friend told detectives he dropped off Bernstein in a Foothill Ranch park shortly before midnight Jan. 2. The warrant, obtained by the Orange County Register, said that the friend had scratches and abrasions on his hands and dirty fingernails and that he said he could not recall the last name or address of a girlfriend he visited after dropping off Bernstein.
When asked about the abrasions by detectives, the young man said that they were from a "fight club" he participated in and that his fingernails were dirty because he fell into a "dirt puddle" during sparring.
Read the full story on LATimes.com.